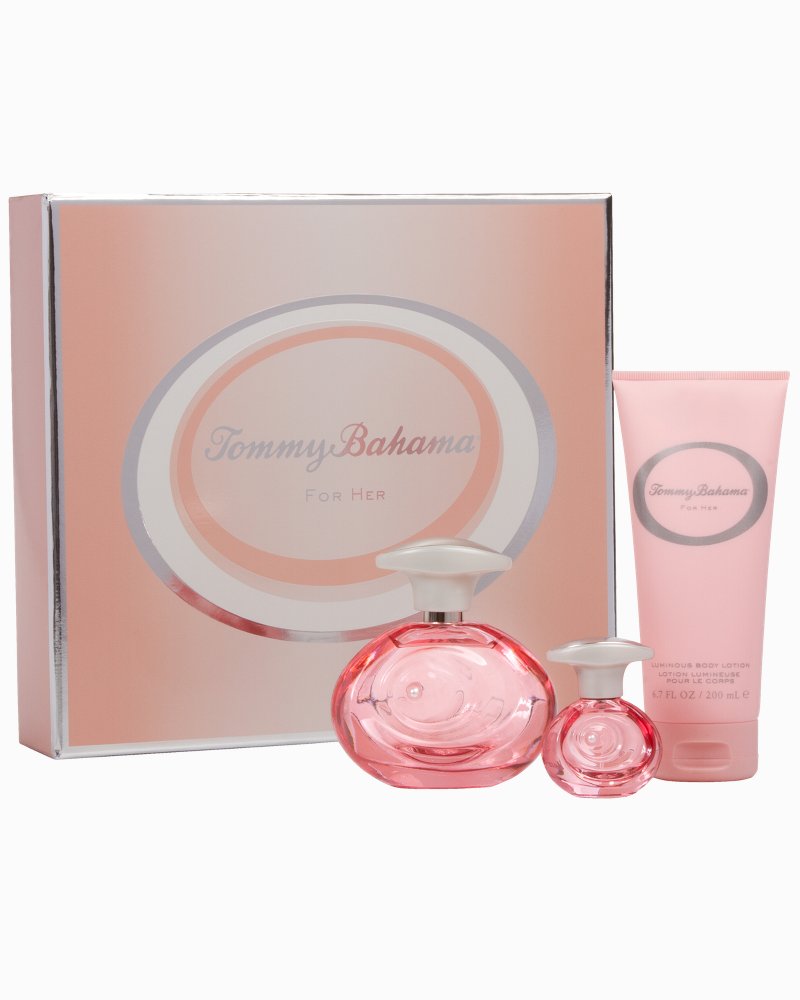 Tommy Bahama For Her Gift Set (# TH31601)
$80.00
As alluring and intoxicating as you are, this three-piece gift set includes two bottles of eau de parfum (one for home, one for your gym bag or purse) and our body lotion. You'll love how it opens with a mouth-watering top of succulent mandarin, juicy apple and nostalgically sweet honeysuckle. A heart of creamy Gardenia blossoms and Hedione Hi-Cis blend seamlessly with the scent of heliotrope flower. A sexy back of vanilla, earthy patchouli and soft musk is drizzled in the decadence of praline.
3.4 fl. oz. eau de parfum spray
0.5 oz. eau de parfum spray
6.7 oz. body lotion
Made in USA
TH31601
Shipping restrictions apply [
details
]
Tommy Bahama For Her Gift Set
15
15
so lovely
I am very particular when it comes to fragrance and this is so warm and feminine. I just love it!
March 6, 2014
Received well by recipient.
The product was tested in the store and later ordered online with the assistance of the cashier/salesperson. It was timely delivered and well received. The overall experience was excellent and expect to do it again in the future with other TB products. Thanks for your in-house assistance. /s/Allen
March 3, 2014
Takes Me Back!!
I haven't had any of this for quite some time now and upon receiving my order, I"m kicking myself as to why have I waited so long to get back to it!!! This fragrance takes me back to some favorite vacations and it's like I'm back at the beach and tropical climates again. I will not go without wearing this for any amount of time again - love it - and always, always get compliments!!
February 2, 2014
Too strong
I prefer a light sweet smelling perfume. This was way to overwhelming and strong. I returned this item and got the St. Barts perfume which is outstanding.
February 2, 2014
Lovely scent!
This is a very feminine and light scent that can be worn everyday or for special occasions! I recommend it!
February 2, 2014
Simply wonderful
I have receive so many compliments when I wear this perfume.., I simply love it and would recommend it to everyone! Can't beat the price either.
January 27, 2014
My wife loved this as her Christmas gift!
My wife casually mentioned a few months before Christmas that she would like some perfume for Christmas and wanted this fragrance. I think she thought I wasn't paying attention when she said it so I went on about what I was doing and made a mental note to find this. A local chain advertised this fragrance on sale for Christmas but when I went into their store they did not have any in stock for the holiday. This turned out to be a blessing because I was pleasantly surprised when I visited your company's website. The particular item was ideal for my wife and one that I probably wouldn't have known existed if I hadn't visited your website. Great product, great service, speedy deliver, and most importantly my wife was thrilled when she opened her present!
January 22, 2014
Wife LOVES it!
This was a Christmas gift for my wife. The reason I gave 5 "pineapples" was because to know her is to know that she is veeeery picky when it comes to scents (candles, air fresheners, even my cologne). This scent by Tommy is by far her favorite and it was nice that, for once, I did not have to return perfume that was given to her as a gift.
January 20, 2014