Linen Big Brim Hat (# TBL7)
$58.00
This linen sun hat is a versatile style that's ideal for sightseeing tours or lounging by the pool. Its wide, upturned brim provides plenty of shade of your eyes and ears, allowing you to enjoy the sun all day long. Finished with a Tommy Bahama pineapple pin.
100% linen
Brim: 3"
Packable, crushable; one size fits most
Inner ribbon drawstring ensures a personal fit
Offers UPF 50+ sun protection
Spot clean with a damp cloth and mild soap as needed
Imported
TBL7
You Might Also Like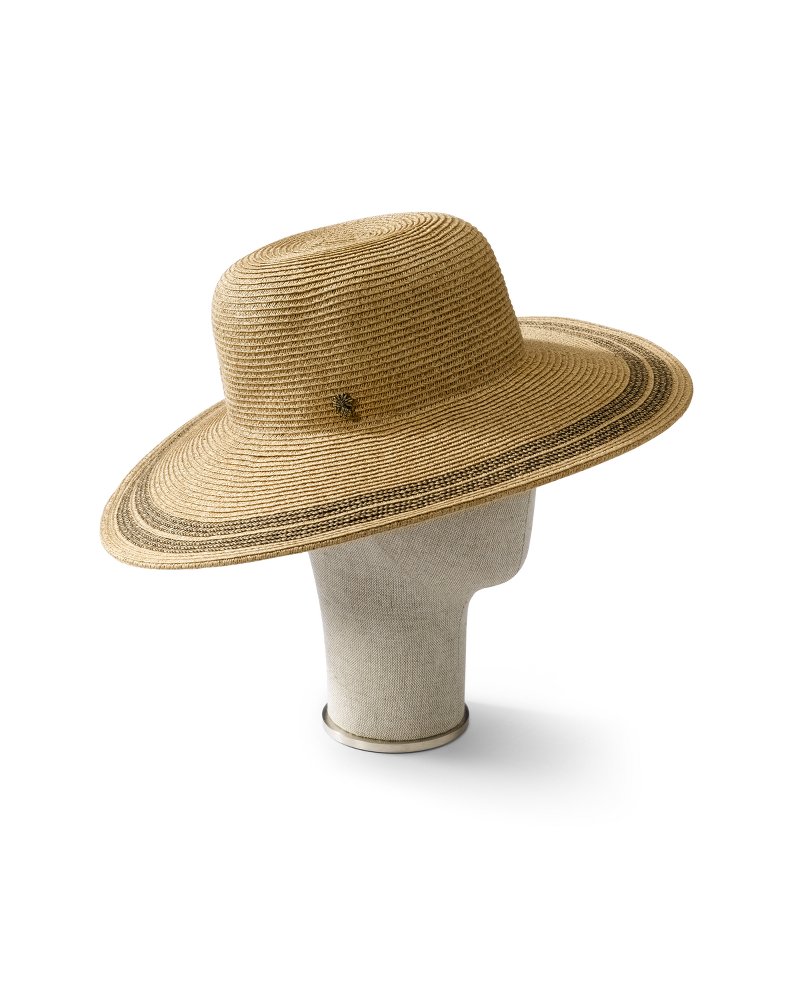 Sun Stripe Hat
$68.00
Great protection from the sun
This hat will shade your face completely from the sun. Nice adjustable ties too!
September 22, 2013
Would have liked it
I was at the Thousand Oaks store and was debating over 2 different styles. The clerk recommended this one because of the SPF protection and that I could put it in the washer. Her saying this finalized my decision quickly as I was planning on putting this hat through good use and loved the idea of being able to wash it. After only having this hat for a couple of weeks it is now ruined. It has lost all shape and looks like a $5 hat now, rather than $60. I am very disappointed that she gave such erroneous statements and want to return it but don't want to drive 30 miles out of my way to return it when it would have been fine if she had not told me it was okay to wash.
August 6, 2013
This hat provided the exact amount of sun protection that I was hoping for.
This hat is light, doesn't make my head sweat, but provides protection from the sun for my head. It's also stylish and I can wear it with anything.
July 9, 2013
fell apart
I purchased this about a month and a half ago and have used it only a handful of times. One of the seams has completely come undone, leaving a gaping hole. This was my first purchase from this brand, and I thought for the price that the quality would have been much better. Needless to say, I am very disappointed. It was purchased on vacation, so I can't even take it back to the retail store.
July 7, 2013
Love it!!!!
Love the color and the brim shape adjusts really well.
July 5, 2013
My lovely hat!!!
This hat is super cute and comfortable.Good quality,great color and well done in the details.I got many compliments on it and it fit nicely.It has an inside cord for adjusting.Folded nicely into my lugguage which was a big plus.
May 3, 2013
It is absolutely the best hat with sun protection!! I took it everywhere with me in Australia & New Zealand during their hot summer months!
I purchased the linen big brim hat in black. It is absolutely the best hat with sun protection!! I took it everywhere with me in Australia & New Zealand during their hot summer months! Extremely portable for travel and crushable for packing - yet, it maintained its shape. Trust me it took a lot of abuse! At first, I was concerned about the color (black) as it may be too hot for the heat - how wrong I was!! The hat is lightweight and breatheable. It made for a great time in the summer heat while down under!! A+++
February 13, 2013
My Favorite Hat!
Over the years I have been collecting high-end straw sun hats. When I tried this one on it felt better than ANY of them. Not too tight (not a hair crusher). And it was super cute too. It is now my "go to" hat. Considering purchasing another color (black?).
October 6, 2012