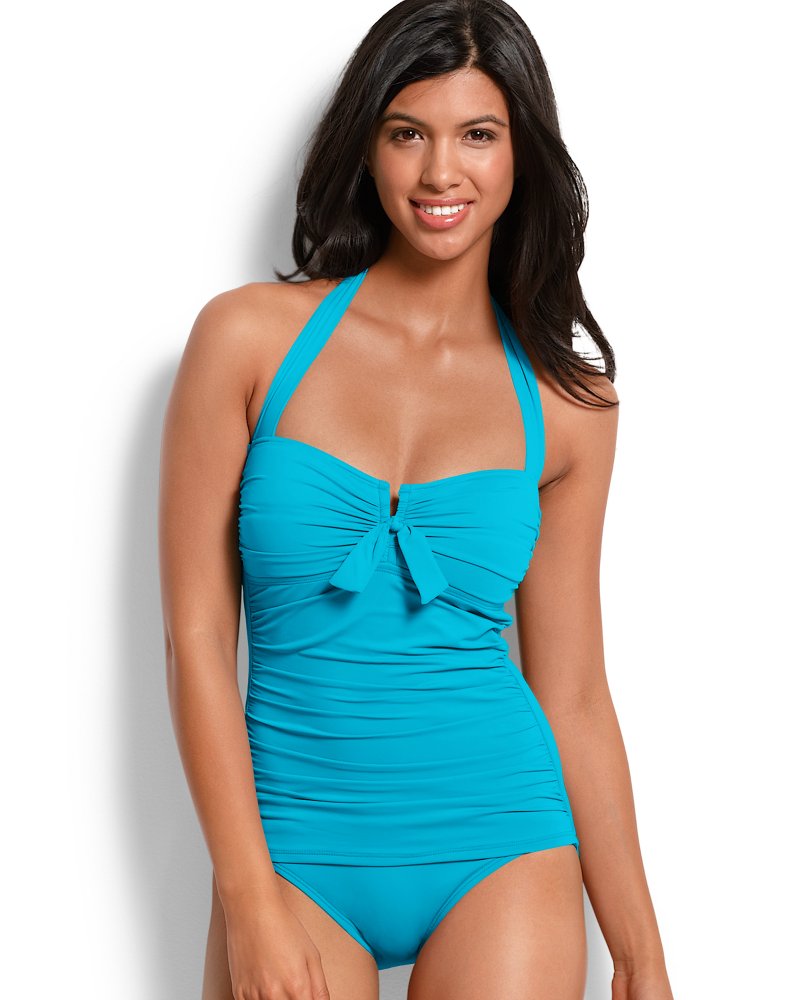 Pearl V-Front Halter One-Piece Swimsuit (# TSW33145P)
$128.00
Bring seaside elegance to any water's edge in this flattering one-piece swimsuit. Sleek and stylish, it features a tummy-control panel that offers a slimming silhouette without sacrificing comfort. Made from premium Italian microfiber, it retains its shape, dries quickly and resists fading.
Xtra Life Lycra® resists the effects of chlorine and other pool chemicals 5–10 times longer than unprotected elastane, allowing garments to keep their shape much longer.
80% nylon, 20% Xtra Life Lycra® Spandex
For best results, hand wash with our Swim Suit Cleaner
Fabric offers UPF 50+ sun protection
Dyed-to-match lining
Tummy-control panel for a slimming effect
Imported
TSW33145P
Pearl V-Front Halter One-Piece Swimsuit
11
11
Good quality and beautiful
I bought this suit in red and it fit well. The colour was exactly as shown. It was a tiny bit snugger than my other bathing suits but I think it is just the fit of it. I prefer more support in the chest so this bathing suit made me feel a little bit self conscious but everyone says it looks the best on me. It is very flattering in the stomach and bum area. Also I love how you can undo the straps when tanning and your suit doesn't move down at all.
July 5, 2014
Not made for small chested people.
This is a flattering swimsuit but is not made for small chested people. The tummy control and raunching in the front is very flattering, but the swimsuit is very loose in the chest area.
July 5, 2014
This swimsuit looks great and fits well.
This swimsuit looks great and fits well. I ordered the suit in green and love the color. I have worn and washed the suit three times and the suit has maintained its color and shape.
June 29, 2014
Pretty Suit/Not an Underwire
It's a very pretty suit, fits well and comes in great colors. My only disappointment is that one of the reasons I bought it was I thought it was an underwire suit. No matter I love it anyway.
June 8, 2014
Tommy Bahama does it again!
I discovered Tommy Bahama swimsuits several years ago and I love them! I am a small busted female and the swimsuits I have gotten fit beautifully. This swimsuit is comfortable and looks great! I purchased it in the green color - great color! The gathering that is a feature of many of their suits makes them especially flattering. Love it!
June 1, 2014
This product is the"Cat's Meow" of swimwear!
This swim suit fits perfectly and is versatile for young and old. I purchased it for myself, age 27, and my grandmother, age 88, borrowed it. She actually looks amazing in it and the guys at the pool whistled! She was sooo pleased to be noticed! It has a built in tummy huger that really works. The bra-top is flirty and reveals just enough. I'm planning to purchase one for a mother's day surprise for Gram.
May 7, 2014
Perfect Swimsuit
I love this suit. I wanted a suit that provided more coverage than a tankini but didn't look to mature! I love it! It's very conservative with the leg lines and body but the neckline keeps it interesting! In general, TB has great suits!!
April 12, 2014
This is a beautiful swimsuit!
I purchased the green one and the color is vivid and just as expected, and I love the fit! I'm 55 years old, and pretty slim, but I think that this suit would be attractive on most body shapes. Definitely worth a try!
April 12, 2014