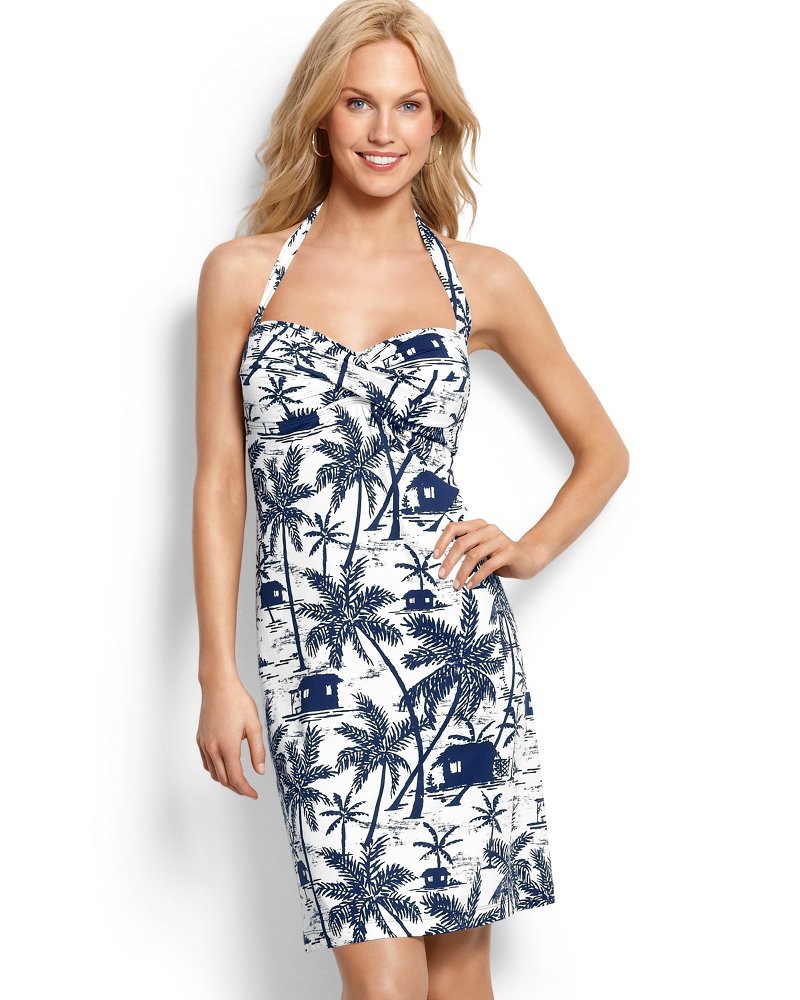 Tiki Moon Twist-Front Halter Dress (# TSW55730C)
$118.00
This head-turning halter dress will immerse you in tropical elegance and carefree luxury. Made from the same, wrinkle-free fabric as our Tiki Moon swim collection, it drapes beautifully, never needs ironing and offers the perfect amount of stretch. Zoom in to see its enchanting print pattern, depicting tiki huts and palm trees bathed in moonlight. Ties secure at the back of the neck for a personal fit.
92% nylon, 8% spandex
For best results, hand wash with our Swim Suit Cleaner
28.5" center back length
Imported
TSW55730C
You Might Also Like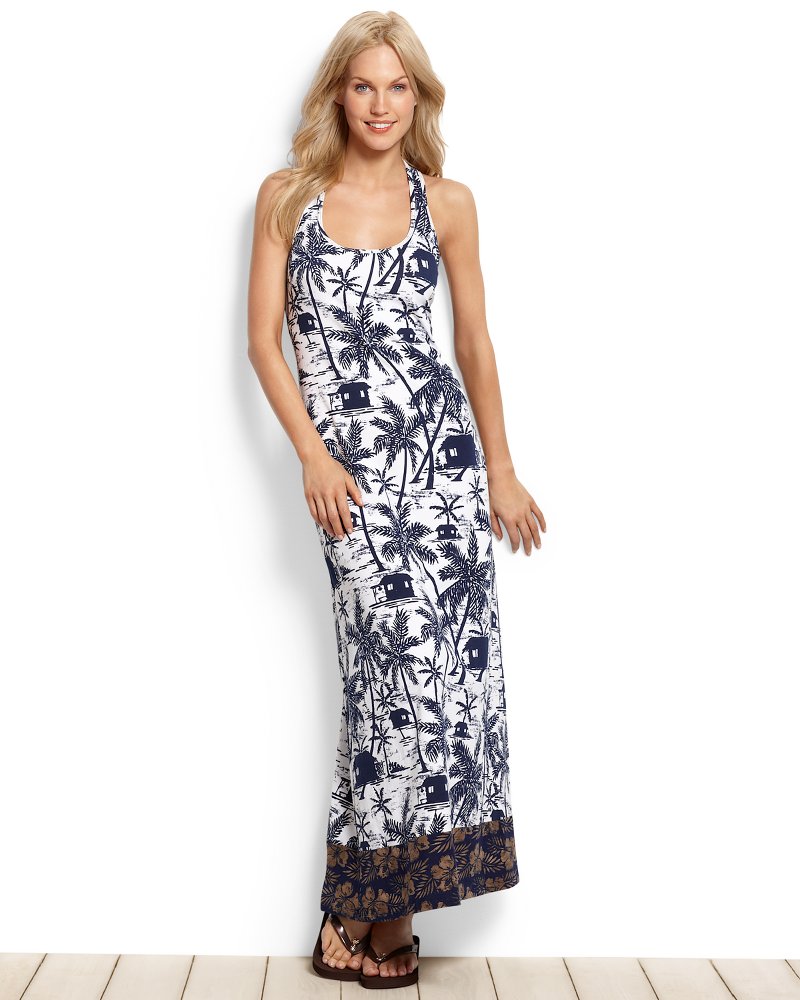 Tiki Moon Tank Maxi Dress
$98.00
Tiki Moon Twist-Front Halter Dress
8
8
A little too big
I bought this for my wife and the dress looks great, however the top was a little too big. We will have to have it taylored, but we love the material and pattern is great! Thanks
September 17, 2013
Perfect summer dress
This is my "go to" summer dress. It is comfortable and flattering! I bought the medium (10/12) and it is perfectly sized. Love the built in bra and the soft wrinkle-free material that drapes beautifully. The hemline hits just at the knee. This is a sexy dress that can go from day to night!
July 5, 2013
Great for travel
Beautifully designed,fits like it was custom made For me. Sexy,comfortable, can change look from day to evening with a pair of shoes. To boot, machine washes like a dream! Quality of the dress is amazing!
June 30, 2013
Loved this dress for my vacation!
I purchased this dress also the bathing suit online without seeing it first and I was so presently surprised it fit perfectly packed great I am thrilled with my purchase. Thank you Tommy Bahama!
April 30, 2013
Recommended with reservations
Lovely dress, great material and design, beautifully made. Small fit me perfectly except on top, which just was too revealing for most places I would want to wear it. It's OK for an evening out and my husband liked it a lot, but it's not for daytime strolling around shops, etc, just too much showing for my comfort level. If only the bodice part had more vertical height in the design to cover more...just a bit would help, and then the dress would have been perfect. This is a problem with most TB dresses I've tried on....the top part is always designed for smaller chested women, which many of us are not! This dress and most others I've tried would be great for someone who is an A or B cup, but not more than that...the bodice area is always too small and there isn't enough support overall so a bra is always needed.
April 22, 2013
bra cups on this dress ill fitting
The dress itself is beautiful! It fit beautifully everywhere except the bra cups. The cups are huge and go from side to side instead of being more rounded like most bra cups. It's as if this dress was made for large breasted women. If you are small or average in the chest area, this dress is not for you!
April 19, 2013
Hubby Says This Is The Nicest Sundress I Own
Made of "bathing suit material" this dress is easy to travel with, and extremely figure-flattering. My only concern is that the side straps can be a little uncomfortable on the skin (around the arm pits) if you tie it extra tight to support the bra cups. Otherwise an excellent buy.
April 8, 2013
Great Dress, But....
I do like this dress a lot, it's really a neat dress, I just wish it fit me better on top. The design is very flattering for certain body types, and is great for a trip to the islands. The material is opaque enough that you don't see underwear through it, which is a big plus for something white. It's a stretchy swimsuit-like material, but of a good thickness and seems like it would be very comfortable in hot weather. Here's my frustration and why I can't give it 5 stars: I'm 5'6", 145#, and 32DDD on top. This dress in a Small fits perfectly everywhere except in the bodice part, which has solid cups nicely sewn into the dress (so they won't wrinkle or slide around) but it is clearly designed for no more than a B cup shape. I end up with substantial cleavage spilling out on top mainly because the bust section and bra cups simply aren't big enough (i.e. in height), and overall, it's not tight enough to hold me up and in snugly without a bra, so for my larger cup size, there's not enough support and containment overall. The side coverage is adequate for a C, D, DD or DDD cup person. But I'm falling out the bottom of the cups too easily and there ends up lots of cleavage up top when I press everything into the cups. Also, due to the stretchiness of the straps, it's hard to tie it tight enough to hold up the bodice area properly...although this would not be an issue if you are more modestly endowed on top. The flip side of this is that my husband absolutely LOVES this dress, and he considers it quite a sexy look given how it fits me. It's is fine for an evening out somewhere, but not really so good for walking around during the day, in my opinion, and I'd feel somewhat uncomfortable with that degree of obvious cleavage walking around town. Overall, I'd say this dress is a great look and is recommended if you are small enough on top that you get a fit like the model in the photo, then it's a full 5 stars; oherwise, it might be "iffy" whether you'd like it or not. It also depends on your modesty and comfort level showing lots of cleavage.
March 23, 2013