Sunset Palm T-Shirt Maxi Dress (# TSW34801C)
$104.00
A beautiful beach sunset is yours any time you want it in this scenic maxi dress. Crafted from soft cotton with just the right amount of stretch, it's perfect for strolls to the shops under your favorite sun hat or creating sparks under the stars. An open neckline and short sleeves flatter, while the fabric provides dreamy drape.
95% cotton, 5% spandex
Hand wash cold; lay flat to dry
56.5" shoulder to hem
Imported
TSW34801C
You Might Also Like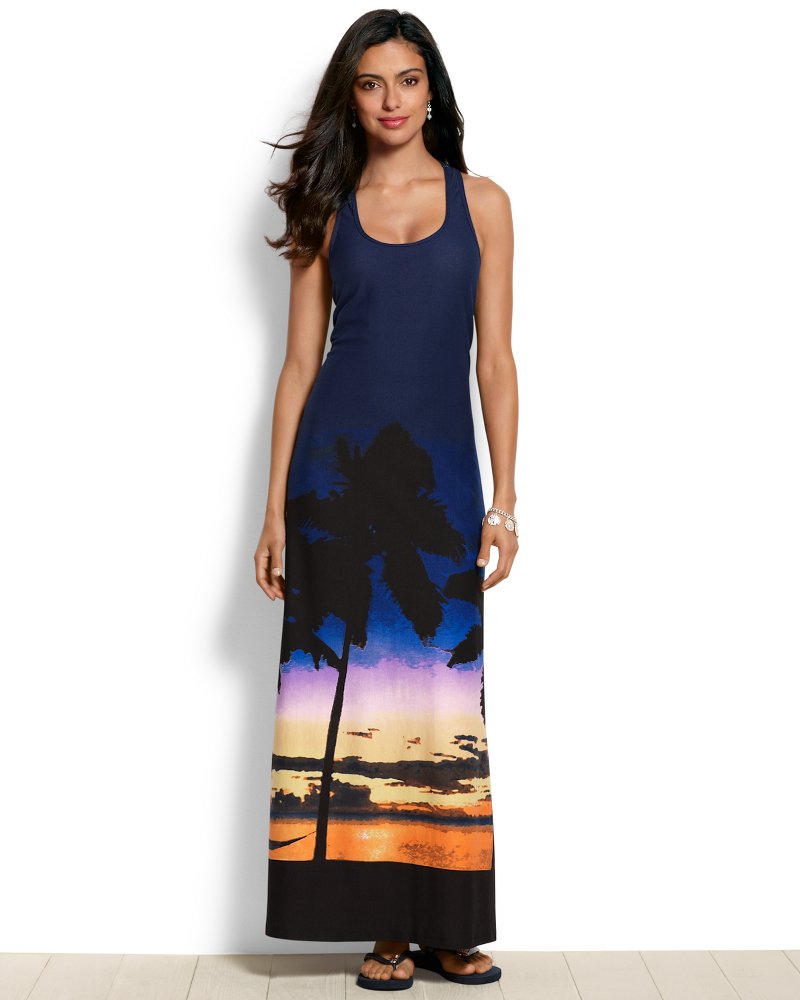 Sunset Palm Tank Maxi Dress
$104.00
Sunset Palm T-Shirt Maxi Dress
12
12
Love it! Can't leave home to any place without it.
Beautiful dress for any place with a spectacular motif in a fabulous combination of colors. Should be a limited edition! Fit is right on. Whether in Naples, Florida or the Bosphorus, along with the right accessories, you can project an alluring mysterious look or cool fun shopping on the boulevard by the sea.
April 5, 2014
A better value discounted :-)
Picture shows the dress pinched, the way many manniquins are displayed in stores, with pins on their backs...lol The dress is straight cut -- if you have the same hourglass shape like I do, if you get this dress to fit your waist, you won't be able to fit your shoulders and hips! I got it to fit my shoulders and butt :-) so I have a lot of room on the ribs and waist, and I took it in to make it more shapely. Thank goodness for the sewing machine that's always present. It is a good value, since I got this on a special buy, otherwise, for a cotton dress, it is pricy!
April 1, 2014
This dress is very slimming and comfortable.
I bought this dress to wear in Maui for tropical evenings. It is very casual with a dressy flare for sunset dinners.
March 29, 2014
LOVE this dress!!
I recently got a chance to get away from the cold east coast weather and I took this dress with me. I had tons of compliments and I found it to be very comfortable.The print also is very well done and makes you feel a little like you are on vacation even if you are not. I listed it as a little big only because I had plenty of room in the hip area and I sometimes find this to be an issue. So if you are in between sizes like me, the smaller one might work!
March 28, 2014
Awesome and flattering!
I bought this dress in January and I love it so much I want to wear it everyday. The fabric is incredible, the fit is comfortable, and the style is very flattering to your figure. I would buy many more just like it.
March 21, 2014
Stunning dress!
What a gorgeous dress! I couldn't wait to receive it. The size was perfect but too long. I have to shorten most maxi dresses but with this particular style, I would have removed most of the pattern. I reluctantly returned it. I like the short sleeves and hope that you will continue to make similar dresses.
March 18, 2014
Love this dress!
I had to have this dress as soon as I saw it and was happy the small fit me. I am 5'7 135 lbs. My only regret that I didn't have it with me on my recent trip to Jamaica! No matter, it will be my go-to summer party dress, dinner at a waterfront restaurant or what to wear to a Jimmy Buffet concert! The colors are vibrant, the fabric weight is nice, and the short sleeve is a nice touch. You can probably tell, I can't wait to wear it.
March 16, 2014
I had a vacation in Hawaii and watched the most beautiful sunsets. One day we stoped for lunch in Tommy Bahamas restaurant for lunch also shop.
I couldn't believe wen I saw this dress. That was the view of sunset I took from our balcony at Mauna Lani Resort. I bought a dress. I am 5"6 and size m fits perfect. Very comfortable. Can't say enough how happy I am finding this dress: youthful, romantic ... Thanks Tommy Bahama :)
February 20, 2014