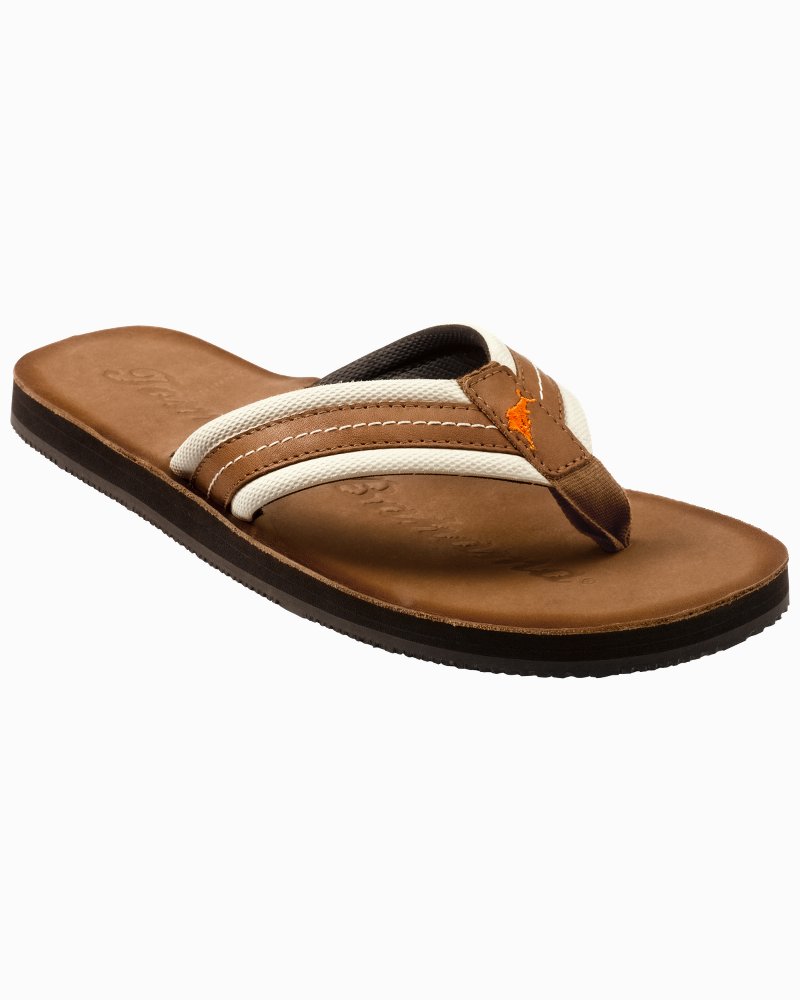 new - Tallon Leather Inlay Sandals (# TFM00106)
$58.00
Walk along the water's edge in sublime style with these handsome sandals. Their molded EVA uppers are inlaid with smooth, burnished leather for a luxurious fit. Cotton canvas toe posts, leather footbeds and EVA midsoles offer hours of comfortable walking, while rubber outsoles provide flexibility and traction. Our sailfish is embroidered on the uppers and our Tommy Bahama® logo is debossed into the footbeds.
EVA uppers with leather inlays
Cotton canvas toe posts
Leather footbeds with debossed Tommy Bahama® logos
EVA midsoles
Rubber outsoles
Embroidered sailfish on the uppers
Imported
TFM00106
You Might Also Like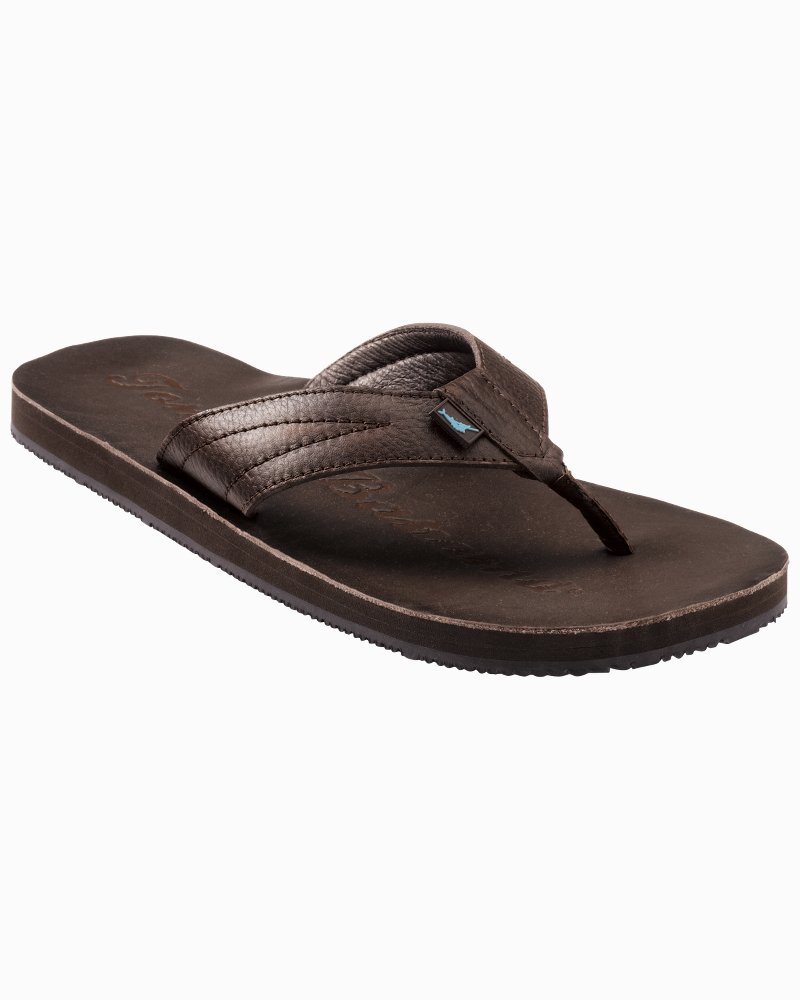 Tork Leather Sandals
$68.00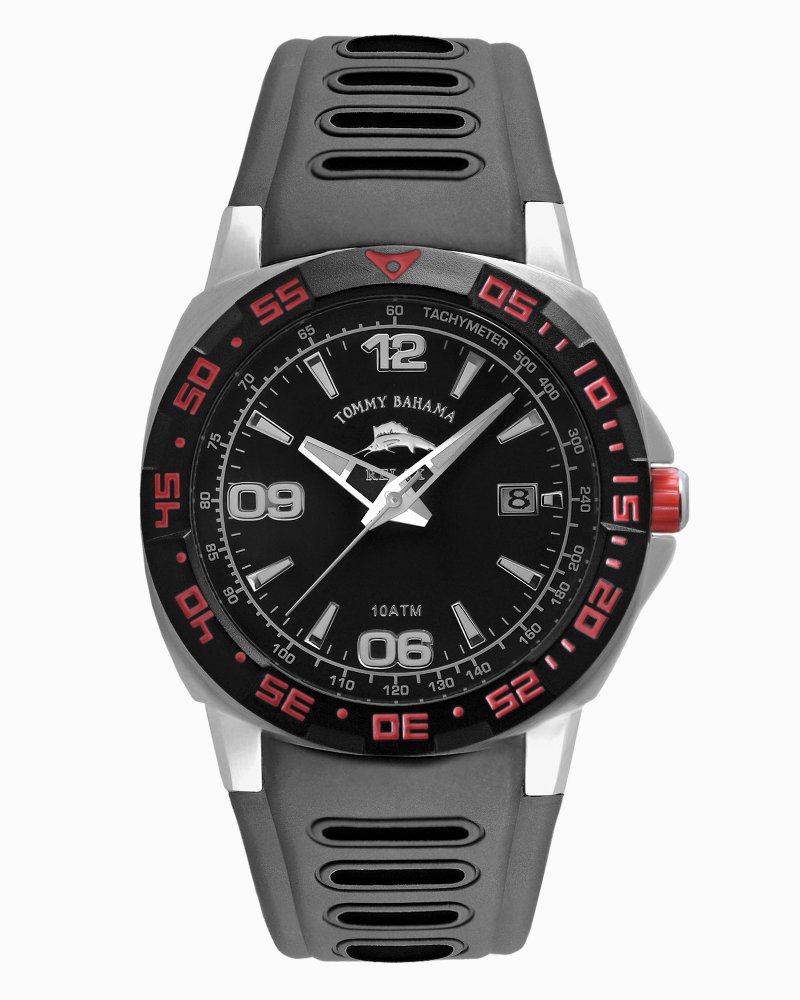 TB Delmar Watch
$115.00
Tallon Leather Inlay Sandals
29
29
Just not comfortable
Look great, but after several weeks have not 'broken in'. They almost are like going barefoot, which is not what I want from good flip flops.
February 3, 2014
Nice fit!
Fits like a glove on your feet! Had to make sure I wasn't barefoot
February 1, 2014
Great look for college.
Bought first pair in Vegas, looked so good they were stolen first day worn to pool. Second pair made it to Nassau and back. Love them!
January 28, 2014
Comfortable - But Overly Roomy Straps
On the recommendations of other reviews, I ordered a half-size smaller than usual. The straps on these sandals are incredibly large. I have a very wide foot and a high arch... and there is a good quarter inch of space between the top of my feet and the straps. Some may find this nice... for me it is just annoying. Other than that, they are great sandals. My new go-to pair after a round of golf.
January 26, 2014
Poor fit
While I like the look of these sandals, they unfortunately are not designed well. The straps sit very high up off of the sole and they don't touch your feet at all when you are wearing them. Perhaps some will like this, but I have never worn a pair of flip flops where the straps didn't contact your feet, so they were odd to me. I returned them and the woman at the store agreed with me that they weren't designed well. Oh well.
January 21, 2014
Pleased with this purchase
Comfortable and stylish. Very pleased with this purchase for my husband.
January 18, 2014
Nice Look
Overall happy with the sandal. As I have had to do in the past I had to order a size up from my normal size to fit better. Just a little disappointed with quality control, the leather top to one of the sandals was poorly glued on causing a ripple effect, but not worth the hassle of returning.
January 14, 2014
Sandals from Jesus?
I've only had them for a few days but these may be the best sandals ever. Every time I put them on beautiful women seem to gravitate toward me and offer to buy me drinks. I even wore them to the horse races and won $500! It may have been a weird physics phenomenon but I was able to run from one side of a river to the other without sinking while they were on my feet. I'm not a religious person and can't say that every pair will have these divine properties, but it's totally worth giving them a try!
January 13, 2014