Fins 'n' Outs Sunglasses (# TB6031)
$115.00
Don these shades and you'll be set to navigate all the "fins 'n' outs" of island living. They'll protect your eyes from harmful rays in any sunny scenario, from hitting the golf course to taking your schooner for a spin. With plastic polarized lenses that offer 100% UVA and UVB protections, they're a sporty choice for any bright days that come your way.
Injected plastic frame with rubber inserts
Plastic polarized lenses
Eye size: 64
Bridge / temple size: 15 - 130
Fits medium to large faces
100% UVA & UVB protections
Imported
TB6031
You Might Also Like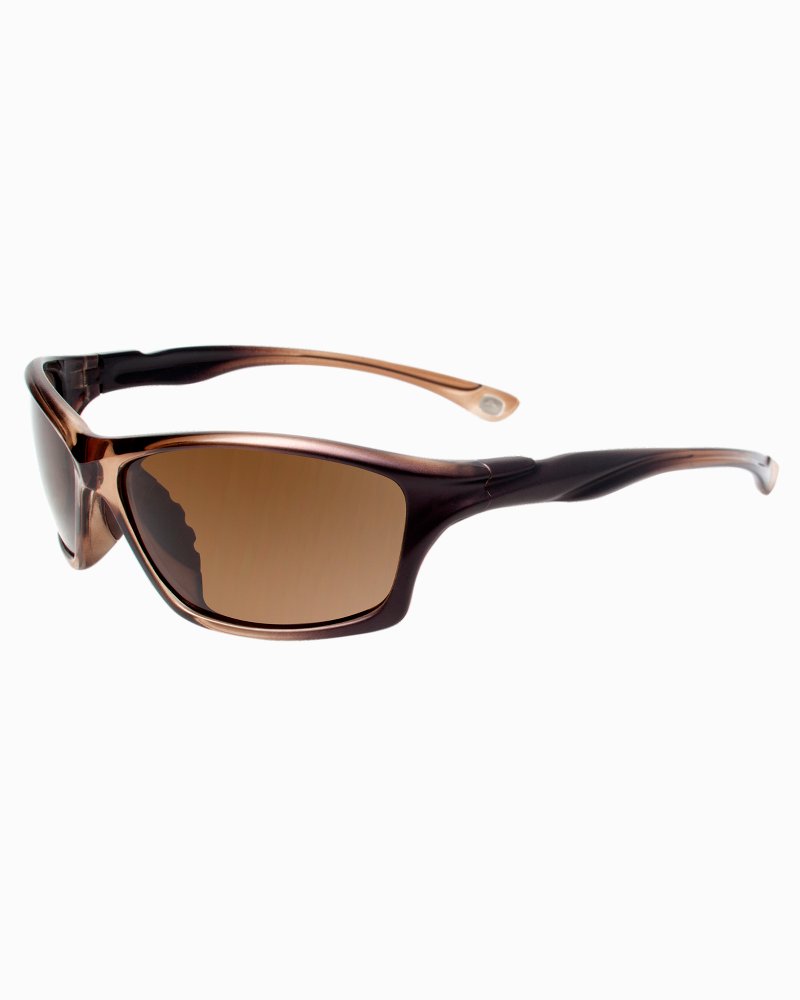 Fish Whisperer Sunglasses
$99.00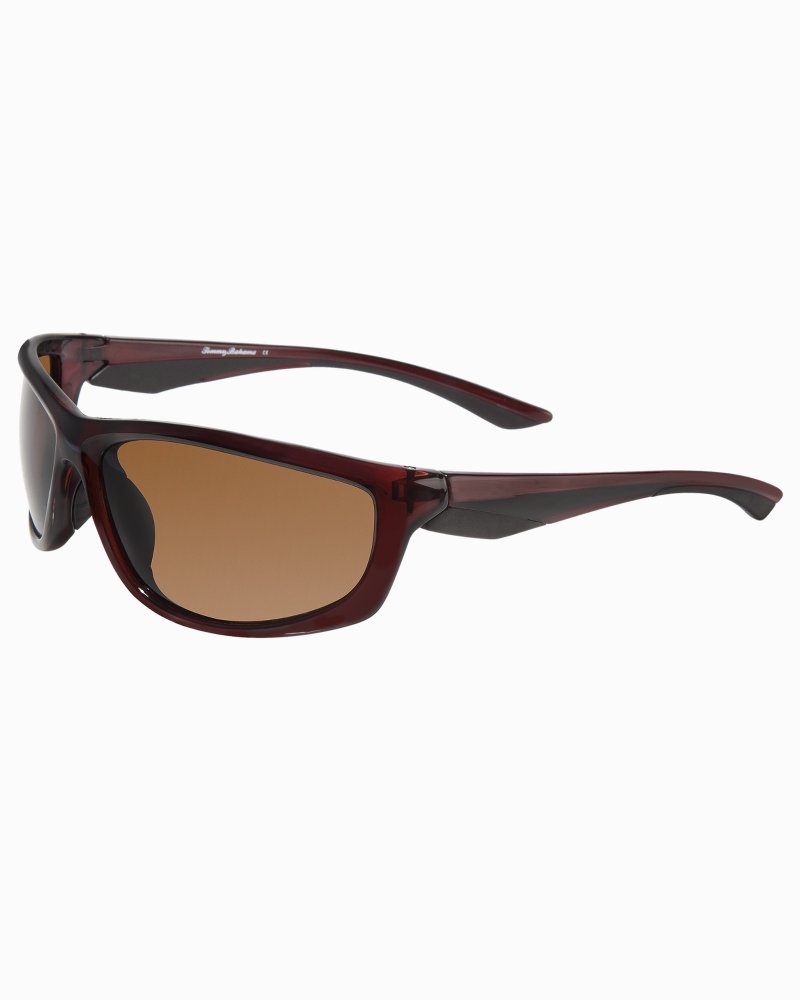 Pier Pressure Sunglasses
$115.00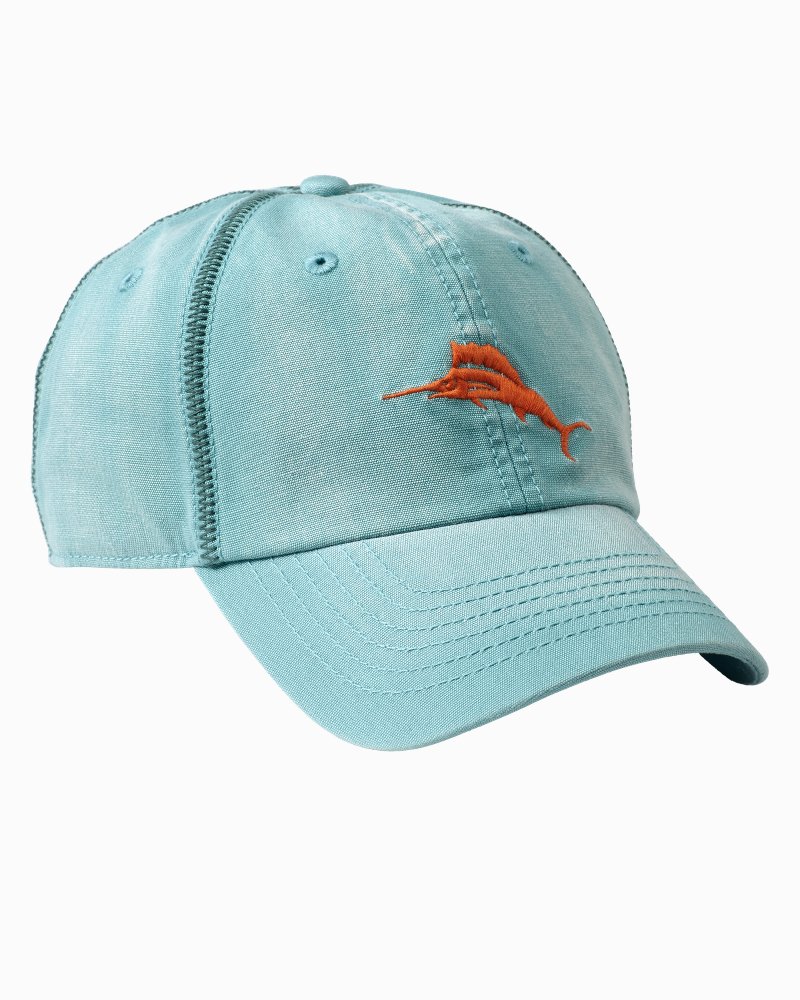 Antigua Cove Cap
$38.00
Fins 'n' Outs Sunglasses
9
9
Fins 'n' Outs Good Value
I got these sunglasses in blue. They look good and fit very well. The polarized lenses do a good job on eye protection on the very bright days. I would recommend this product to a perspective buyer.
May 30, 2014
Great fitting, no-slip sunglasses! Well worth it.
I bought these sunglasses for my husband's birthday (March 2014). He absolutely loves them and they are his all-time favorite pair of sunglasses. They have no-slip grip material in the bridge area and temple tips. He claims they stay on his face no matter what he is doing outdoors and he's thrilled with them. They do wrap around and provide full coverage sunblock. Only rarely do his eyelashes touch the lenses but not enough to bother him. They also seem quite rugged & sturdy so far. We are considering purchasing a second pair -- he says he would be very disappointed if he ever lost or damaged them... he doesn't want to be without them. I simply like how good they look on him. Somewhat sporty but not over-the-top. The red looks great with his copper tan skin.
April 7, 2014
Excellent Choice
These do the job, especially for sports like cycling. They are incredibly light and comfortable; the frames fit in a way that keep them from moving, while not feeling squeezed. Size just covers your whole field of vision. Very pleased.
March 31, 2014
Cool, comfy & Polarized!
Wow! I could not believe the fit, price point and design of these cool sunglasses. All I wear is Maui Jims. To find a pair of sharp, comfortable and polarized sunglasses for $115.00 is unheard of. The melt into your head if you will, that's how comfortable they are. They have rubber grips at the end of the arms to hold them close to your head when being active. I jetski and swim a lot and they are perfect for me when doing this type of activity. The red ones are glossy and resemble the color of candy apple red. The blue ones are a glossy, but not gaudy, royal blue. Very, very good quality all around. You will not be disappointed with these glasses. Especially with them being polarized: easy on the eyes and you can see so much clearer and sharper. Thanks TB!
October 9, 2013
Good all around
They are light and very comfortable, as much as any I've worn. The color, well I wanted a dark blue and they are more a greyish lavender tinted blue. Took a bit of time to get used to but I did. The comfort is the reason to purchase.
September 20, 2013
These are fantastic
These glasses provide all sun protection I need. Living in Alaska this year we have had fantastic weather. With the sun out 24 hours at time, for driving or sitting on the deck or golfing, they do "their thing". Thank you and keep up the great work
August 17, 2013
Great Choice!
I bought these glasses for riding and they are excellent. Comfortable, light and perfect fit.
July 22, 2013
Excellent Product!
Gift for my husband. First time purchasing an item like sunglasses online without knowing how they fit. True to Tommy Bahama quality, they were perfect. Beautiful pair of glasses, high quality, great protection! He loves them!
July 19, 2013