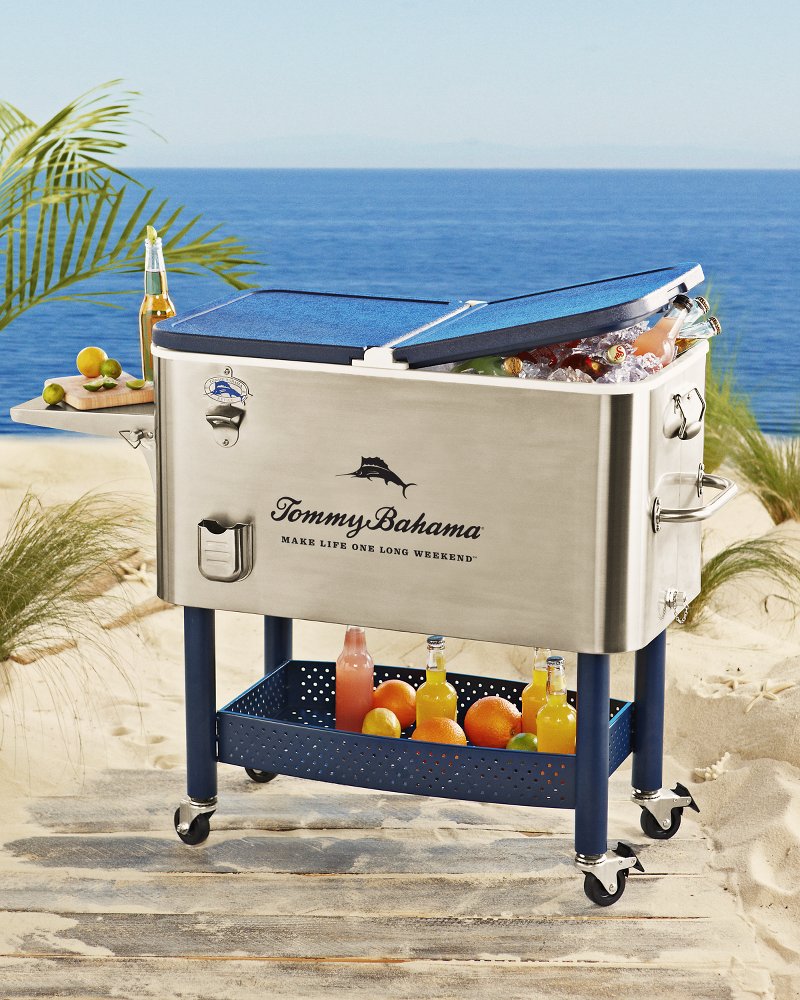 Deluxe Stainless-Steel Rolling Party Cooler (# TH31067)
$318.00
At 100 quarts of capacity, this stainless steel cooler cranks any party up a notch. Available only through Tommy Bahama, it has a waterproof cooler cover and attached bottle opener, as well as classic conveniences like a towel rack, folding service tray, removable base and more. Easy-grip handles and castor wheels make maneuvering easy, while a lower shelf effortlessly holds your party essentials. Bottom line: this cool
er
is the cool
est
!
Cooler: stainless steel, polyurethane
Base: steel, rubber
Dimensions: 33.5" long x 18.5" wide x 16.5" tall (44.5" long with service tray extended; 33" tall with legs)
Volume: 100 qts.
Weight: 41.8 lbs.
Cooler:
Comes with a waterproof, drawcord cover with suede fabric lining
Split-top lid for easy access
Drain plug on side
Tommy Bahama® logo, Make Life One Long Weekend™ motto and sailfish icon on bottle opener and cooler exterior
Detachable bottle cap catcher
Four-legged base:
Removable caster wheels; two have brakes
Some assembly required
Cooler lifts off of the base for easy cleaning
Ships separately via FedEx Ground; price includes $30 shipping surcharge
Gift wrap not available
Imported
TH31067
Shipping restrictions apply [
details
]
You Might Also Like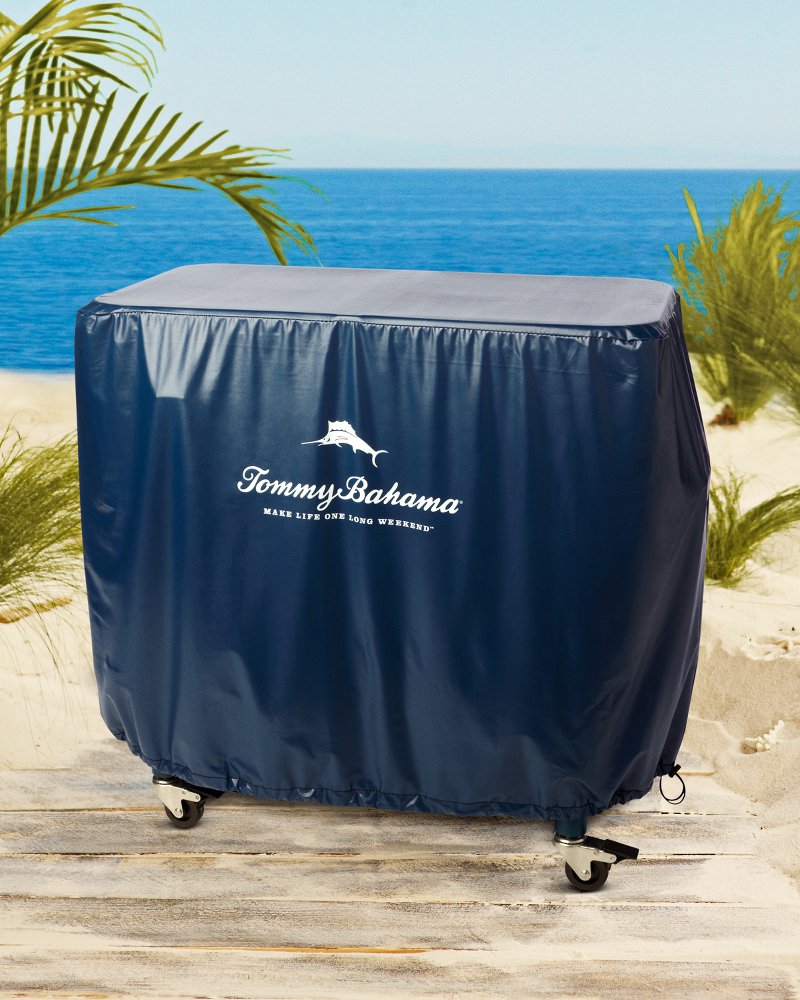 Rolling Cooler Cover
$25.00
Deluxe Stainless-Steel Rolling Party Cooler
63
63
Lv it ;)
Love mine I just hope they have the cooler cover soon !!!
July 11, 2014
I love it
I have a full 32 X 32 outdoor kitchen that the chest really highlights. The rolling casters are excellent and the top makes a great prep station and serving area. Everyone that comes over Loves it Thanks
June 30, 2014
Nice attractive cooler if it's not damaged
When our cooler arrived, there was a huge dent in the front, which is quite noticeable. I sent a review about this & was contacted by customer service apologizing & asking for a few pictures of the damage. Upon receiving the pictures, customer service immediately notified me that I could order a new cooler, or get a refund. We opted for the refund, and immediately our credit card was credited for the ENTIRE charge including shipping. The cooler is functional and the visible dent is a conversation piece for us to tell friends about the excellent customer service.
June 17, 2014
Really wanted to love it
I received this as a gift from my college student for my birthday. She works very hard on school breaks in retail. She felt her money was being well spent because we have never had a quality issue withTB! The cooler has been outside for a short time due to a cold spring here in New England. Assembly was easy. It looked great. Worked great too. But, after only a few months, it is already starting to rust on the bottom, the lid is warping, and the cover is fading. The inside is also starting to get little cracks around the edge. Very disappointed. It was great while it lasted.
June 5, 2014
Great Cooler!!!
Very stylish and fit my Outdoor Kitchen well. Great to have when you need to pull out a Cold One!!! Made with good quality material and easy to assemble. I know that I will enjoy a long enjoyable Island Lifestyle using this cooler to quench my thirst.
June 5, 2014
repair of the cracked plastic
Was wondering if anyone was successful in repairing a cracked cooler liner?
June 3, 2014
Common problem
I bought this wonderful cooler less than 1 year ago, now the plastic liner is cracked around the edges and rust in places. I love this product and is perfect for the summer but unless they change the quality of the materials I am afraid to buy a new one
May 31, 2014
TB Cooler
I love tB shirts, but the cooler was given to me as a gift and at first looked very nice. Then the plastic started splitting aroun the top and one of the lids snapped and broke when it was being cleaned. Just not the great quality you expect form Tb.
May 31, 2014