SHIP TO:
Navy Deluxe Backpack Beach Chair (# TH30657)
$58.00
Available only through Tommy Bahama, this deluxe beach chair makes relaxing easier than ever before! 2.5" wider than other backpack chairs, it has a lightweight frame of aluminum and steel that collapses for hands-free toting. When unfolded, it reclines to five different positions, while its hardwood armrests provide a unique touch of quality. With an insulated cooler pouch, cell phone holder, towel bar, adjustable pillow and more, you're guaranteed to always have the best seat in paradise!
Aluminum frame; steel seat and backrest inserts; navy polyester fabric; hardwood arms
Dimensions and weight limit:
31" x 23" x 28" when opened (31" x 31" x 28" with towel bar extended)
Seat approx. 8" off the ground
300-lb. weight limit
Features:
Adjustable pillow
Upper storage pouch
Lower insulated cooler pouch
Side pouch with drink holder and cell phone pocket
Towel bar doubles as "legs" when chair is reclined to flat position
Embroidered sailfish, Tommy Bahama®, logo, Relax in Style™ and Make Life One Long Weekend™ mottos; Tommy Bahama® logo burned into hardwood arm
For more information, see the use and care instructions
Due to the natural characteristics of wood, the color and grain of the armrests are unique to each chair.
Ships separately via FedEx Ground; gift wrap not available
Imported
TH30657
Shipping restrictions apply [
details
]
You Might Also Like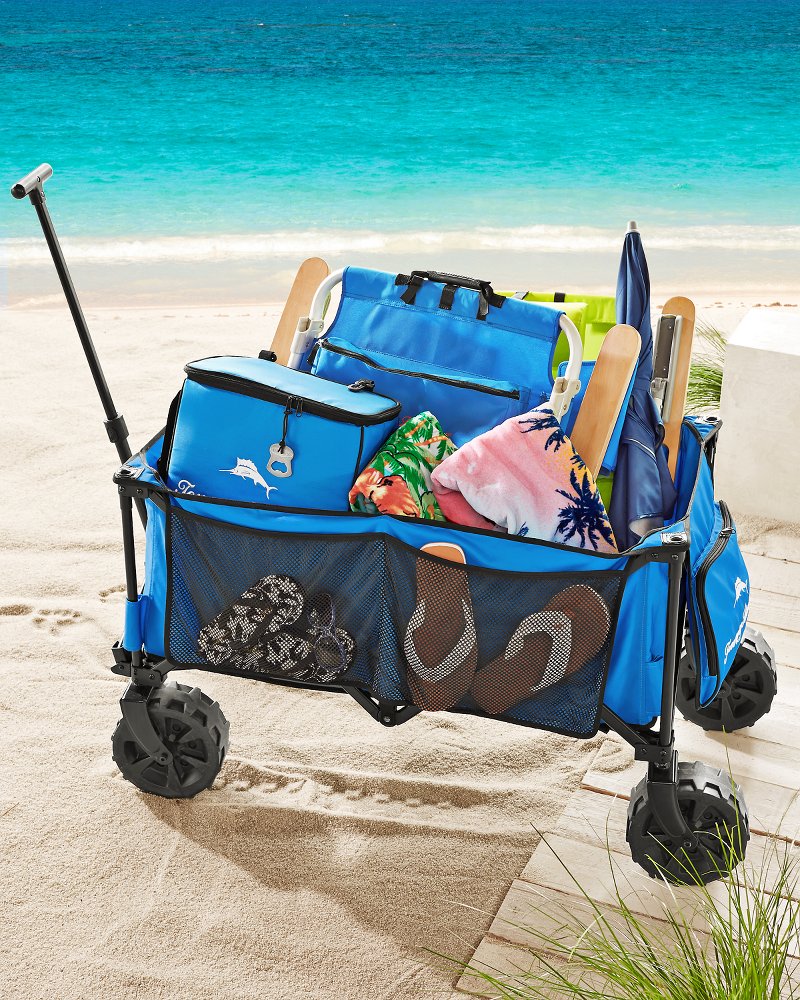 Tommy Bahama Beach Wagon
$195.00
Navy Deluxe Backpack Beach Chair
347
347
Love the pockets for cell phones etc
Side pockets really useful for holding phone. Back has small cooler to hold 3 or so drinks. When picked up package found to be a little heavier then I expected which for me was a plus as think means sturdier in construction. Had choice of 3 colors at a Large Reseller member only store and decided to buy one of each. Not sure if will ever use the back-straps to use it as a back pack, however perhaps not as silly as first felt when I looked at this feature.
September 21, 2014
Love the chair skeptical about the sewing
The chairs have all of The features that I was looking for. Very comfortable to sit in. My 2 problems with the chair is, the sewing job looks shotty, you can see that the thread has stretched, pulling the fabric. I'm nervous about the longevity. For the price of the chair I would have hoped for a little bit better craftsmanship. Aside from the sewing, the chair is nice.The second problem which is not as Big of a deal is the chair sounds like it's creaking/farting every time you sit down. That being said, if they fix the sewing aspect of the chair, you have a great chair.
September 15, 2014
Tommy Bahama King!!!!
I purchased (2) Tommy Bahama chairs for use this summer. They were AWESOME!!!! My girlfriend and I felt like royalty, seated upon a throne. They were wide and comfortable, and far surpassed the other chairs we spotted on the beach. My recipe for a perfect beach day - a Tommy Bahama chair, a cold drink and a beautiful sunset. Oh yeah, and my girlfriend in a Tommy Bahama chair next to me......
September 15, 2014
Exactly as described
We bought two of these chairs for an outdoor concert. They are lightweight and easy to carry with the backpack feature. Very sturdy to sit in and the storage and insulated areas are so useful! We look forward to many years of enjoyment from these chairs and would consider giving as gifts. Absolutely do not hesitate to buy!
September 15, 2014
Must buy another one
Light weight, well built and comfy. My 2 year old decided that my chair is now his beach chair. He loves sitting in it and napping in it too. Husband loves his too. I guess I have to buy another one for me.
September 12, 2014
Best, most confortable, beach chairs that I have ever owned.
The best beach chairs that I have ever purchased. Purchased 2 chairs 4 years ago and they are still like new. My grown kids also take my chairs to the beach often. Easy and convenient in every way. Fits a "slim" 208 pound, 5'10" man like me perfectly. Love the red, white, and blue American colors.
September 10, 2014
great chair
My husband loves these chairs for the size, the cooler and the storage. However, one of our chairs does not lock as well on the backpack latch. We should have sent back but did not and now afraid it's too late and too cumbersome to do. Check to make sure the backpack latch device clicks in well before using.
September 8, 2014
Cost
Quality is no where near the price, basic qualities like those of material and function. Just read the other poor reviews and believe them...
September 2, 2014