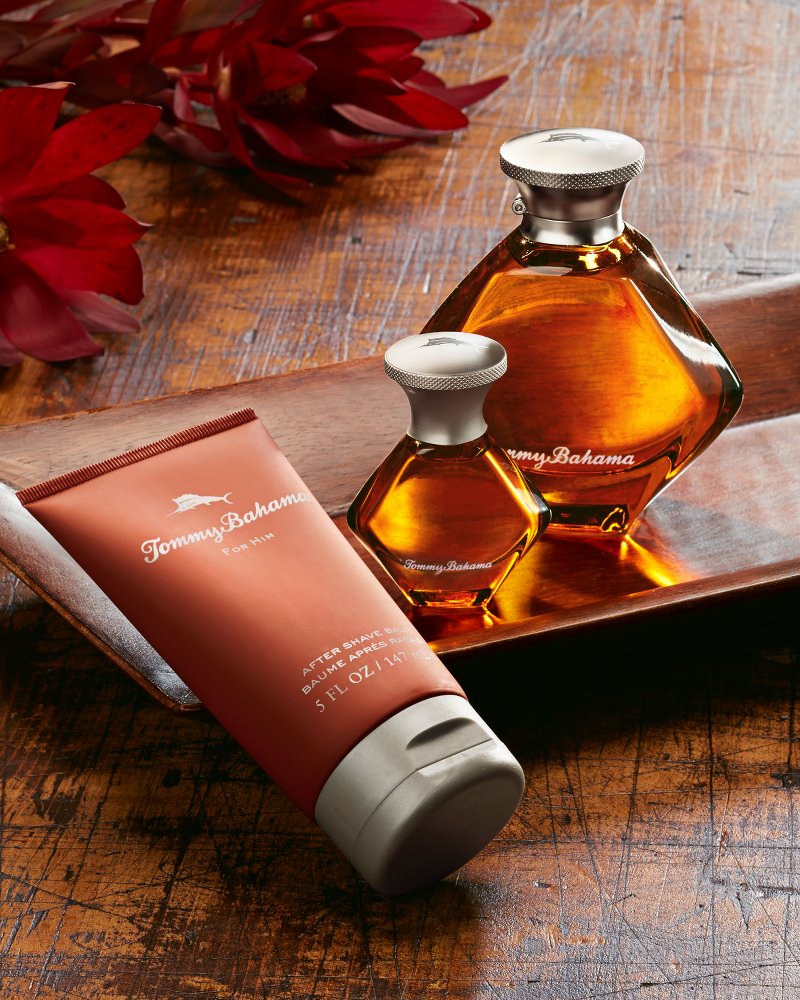 Tommy Bahama for Him Gift Set (# TH31623)
$74.00
Created with the refined island gentleman in mind, this three-piece cologne and grooming set is as sophisticated and complex as you are. Included are two bottles of cologne spray (one for home, one for your gym or travel bag) and our after shave balm.
A Tommy Bahama exclusive, it opens with a burst of juicy watermelon, tangerine, crisp pear, and ginger. A heart of Tiare flower and violet leaf is infused with coriander and followed by bottom notes of amber, Tonka bean, and Australian sandalwood.
3.4 fl. oz. cologne spray
0.5 fl. oz. cologne spray
5 fl. oz. after shave balm
Made in USA
TH31623
Shipping restrictions apply [
details
]
Tommy Bahama for Him Gift Set
11
11
Really Smells Good
We were visiting your store and while I was enjoying a mojito, my wife was shopping with our daughter in law. She took a whiff and said that she wished her husband (our son) smelled like that. We agreed, bought it for her and now he does. Everyone is delighted and the mojito was great too!
February 28, 2014
Great Set
Perfect for the traveler who doesn't like to carry the big bottle around... or give to the GF to have. Aftershave is on the money as well, doesn't dry the face out and smells great without overpowering your senses.
February 12, 2014
Great scent, great value
I love this scent. I purchased it based on the previous customer reviews and I am glad I did! It is so long lasting and I receive a ton of compliments! I'm taking the travel size on my vacation! Will buy this again
February 3, 2014
Wonderfully Different!!!
As a road warrior at work and play I loved the ability to take the small spray on trips. Fit nicely in my toiletry bag and allowed me the flexibility to bring along other essentials. The after shave was very nice and did not irritate my sensitive skin (can't usually use aftershave). Love the floral yet masculine scent!
February 1, 2014
Surprised and VERY Satisfied!
First, let me say that I am very picky about my cologne… VERY. To the point where I only have 2 on hand per year. Well, let me say I just found number one! I love it, my wife loves it and even friends tell me they love it one me. The spray mist is perfect, no overload, no waste. Shipping was quick and it was very well packaged. I love your clothing line and now you got me hooked on this cologne.
January 24, 2014
Great smell refreshing, my son loved the travel bottls
My best experience ever everything arrived just intime for Christmas.
January 21, 2014
refreshing
My husband has worn the same scent for MANY years....we could never find one we agreed on....he tried this in the store and we both smiled..... not overpowering....just refreshing!!!!
January 13, 2014
Great 3 piece set
Not my favorite "flavor" TB cologne but typical great product overall
January 11, 2014