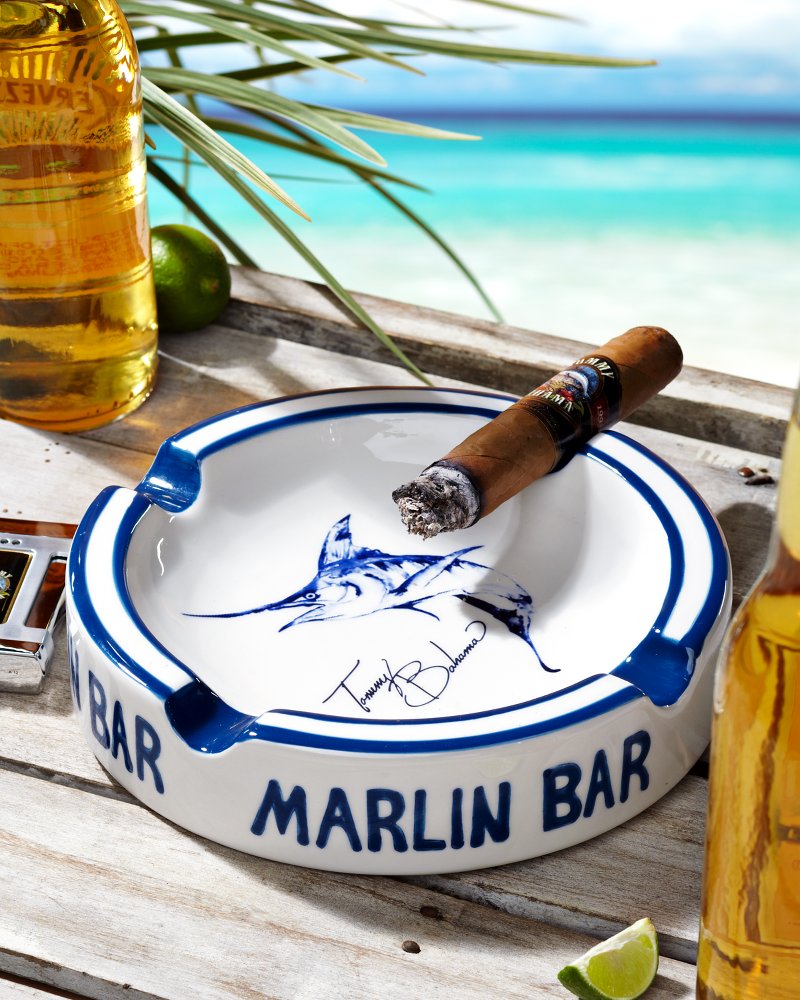 Marlin Bar Round Ashtray (# TH30944)
$38.00
With a quartet of inset cigar rests, this round, ceramic ashtray is ideal for your regular Friday poker game or sharing a bottle of rum with the guys. Hand-sculpted and decorated with our custom artwork, it celebrates the Marlin Bar, part of our
Manhattan Island
location. Zoom in to see the "Tommy Bahama" and marlin logos on the inside of the tray, as well as the embossed, hand-painted "Marlin Bar" lettering on the exterior.
Ceramic
7.25" in diam. x 1.5" tall
Four cigar rests
Wipe clean with a damp cloth
Decorative gift box included
Imported
TH30944
Marlin Bar Round Ashtray
8
8
This accessory is a perfect fit for a cigar mood.
I am not a smoker but I do make exception for a good cigar and special occasions with friends. The Marlin Bar ash tray fits perfectly and adds to the enjoyment of this special time.
February 8, 2013
This product looks spectacular...
I saw this spectacular cigar ashtray while on vacation in Naples during our annual lunch at the TB store in Naples (Killer food and drinks i might add) We have a sunporch with a Tommy Bahama theme and this ashtray fits right in. My friends and I smoke cigars in that room and it is a vibrant addition to our decor.
February 3, 2013
Perfect.
I'm a big fan of the marlin logo. The cobalt blue is a great color. I have the matching lighter, case and cutter for this ashtray. They all work very nicely together. Puts me in a great state of mind.
February 1, 2013
Makes Cigars Look Good
Perfect for the summer patio. Makes me want a cigar right now.
January 30, 2013
Great gift for our cigar smoking friends!
Tired of giving bottles of wine or other alcohols as gifts to our friends. When I saw this ashtray I felt it was the perfect fit for the cigar smokers among our dear friends! Would love to see some other styles/designs/colors in the future.
January 18, 2013
Cool Ashtray
Bought for a gift and the guy says he likes it. Lighter and less expensive than the others.
January 18, 2013
This ashtray increases the fun of smoking a great cigar
No matter where I am, using this ashtray while smoking my favorite cigar makes it seem like vacation.
January 18, 2013
Just looking at this makes me feel on vacation!
Purchased this Marlin Bar ashtray for my husband who has the occasional cigar with a friend or neighbor out on the back deck of our home. Even though we will not pack it in a suitcase, looking at this Marlin Bar Ashtray, still makes me feel like I'm on vacation!
January 7, 2013