SHIP TO: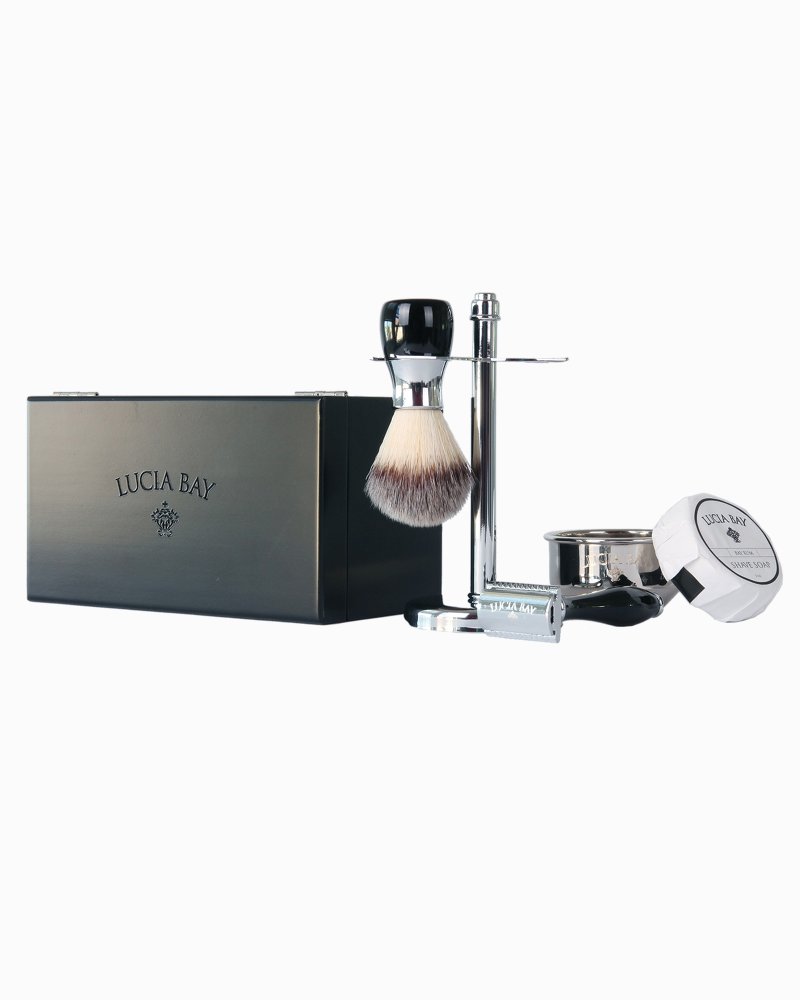 Lucia Bay® Shave Set (# TH31682)
$188.00
This well-appointed set will help any guy get back to shaving basics. Made by Lucia Bay, it delivers a clean, rejuvenating shave without harsh chemicals. Its double-edged safety razor comes with a five-pack of long-lasting feather blades, while the rum-scented shave soap nourishes your skin with natural and essential oils. Give this set a try and you'll never go back to disposables. Also included are a cruelty-free shave brush, chrome shaving bowl, shave stand, and black bamboo storage box.
Double-edged safety razor with five feather razor blades
2.5 oz. Bay Rum shave soap
Shave brush with stand
Chrome shaving bowl
Black bamboo storage box: 8" x 4.25" x 4"
Made in USA
TH31682
Shipping restrictions apply [
details
]
Lucia Bay® Shave Set
4
4
best out there
Great company and great set! I'm obsessed with DE razors and this is a great one , the value of the whole set is good compared to other top of the line sets.
August 20, 2014
A good partnership
Tommy Bahama chose a great company to partner with on this fine shaving set. I have done about every form of shaving there is, including straight razor, but this was my first time with a traditional safety razor. If you're hesitant because you think you might get nicks the way Dad did, don't sweat it. This razor is much easier to use than it looks. I went both with the grain and then against it and no cuts at all. I don't recommend going across the grain on your neck, however, as this was where I did get some irritation. The scent of the soap is very mild and pleasant. This form of shaving is just as fast as with a modern 3 or 5 blade razor, unlike shaving with a straight. They aren't kidding about it replacing whatever you're using now. I'll keep the straight around for those days when I want to practice my hobby, but this is destined to be the everyday razor of choice.
June 5, 2014
Quality shave set
I bought this for my 25 year old brother and he absolutely loves it! He says it's the best shave he's ever had and would never go back to cheap razors.
April 29, 2014
A rare find, this classic set boasts fine craftsmanship and a superior shave. An exceptional gift for the man with impeccable taste.
This sensational shaving set added instant turn-of-the-century style to our sink area. From the shiny chrome shaving bowl to the double-edged safety razor, each piece is meticulously crafted and the rum-scented soap is very appealing. This is a holiday gift that will be appreciated every day of the year. Thank you!
January 20, 2014