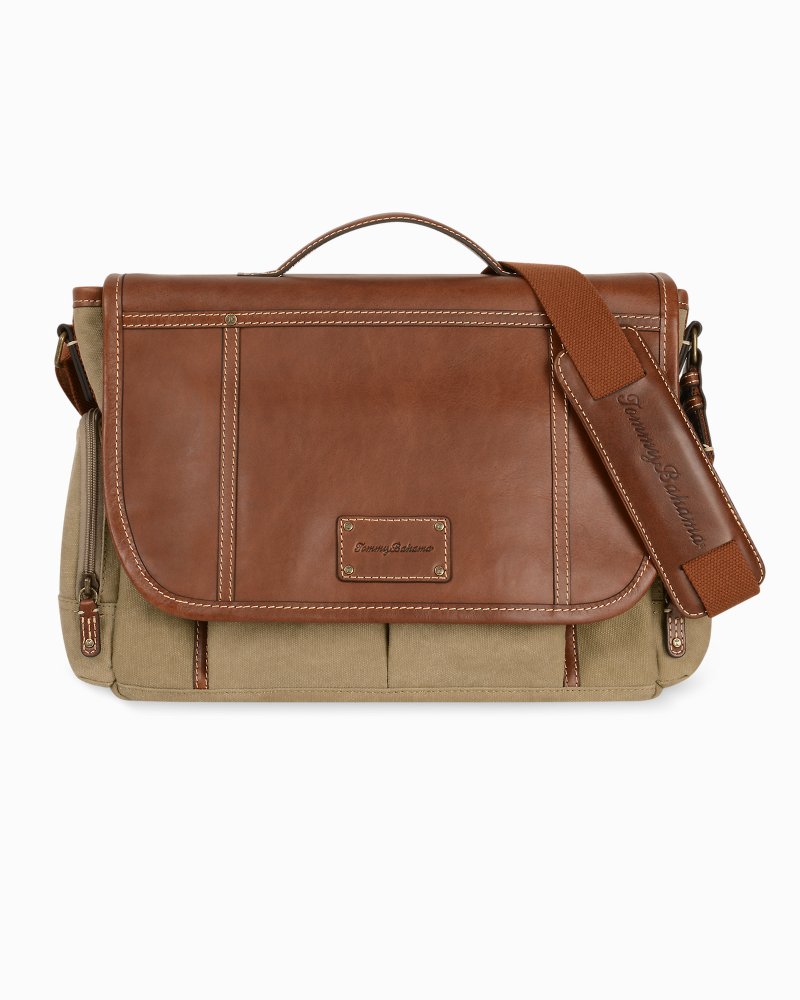 Canvas & Leather Messenger Bag (# 2419C02)
$300.00
Its classically inspired design, padded strap and deluxe details make this messenger bag a handsome choice for travelers and commuters alike. To keep your small necessities organized, there are two slip pockets under the leather flap, two exterior pockets, plus a zip pocket and leather-trimmed organizer panel inside.
Full grain leather, washed cotton canvas
15.5" x 4" x 12"
Imported
2419C02
You Might Also Like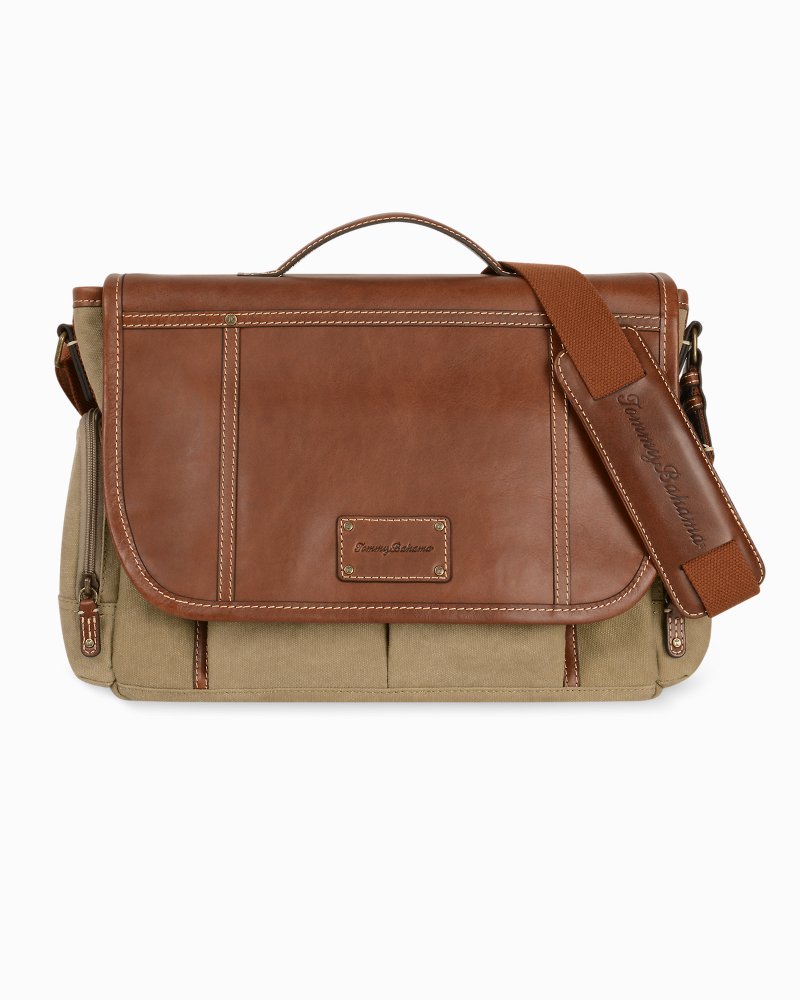 Canvas & Leather Messenger Bag
$300.00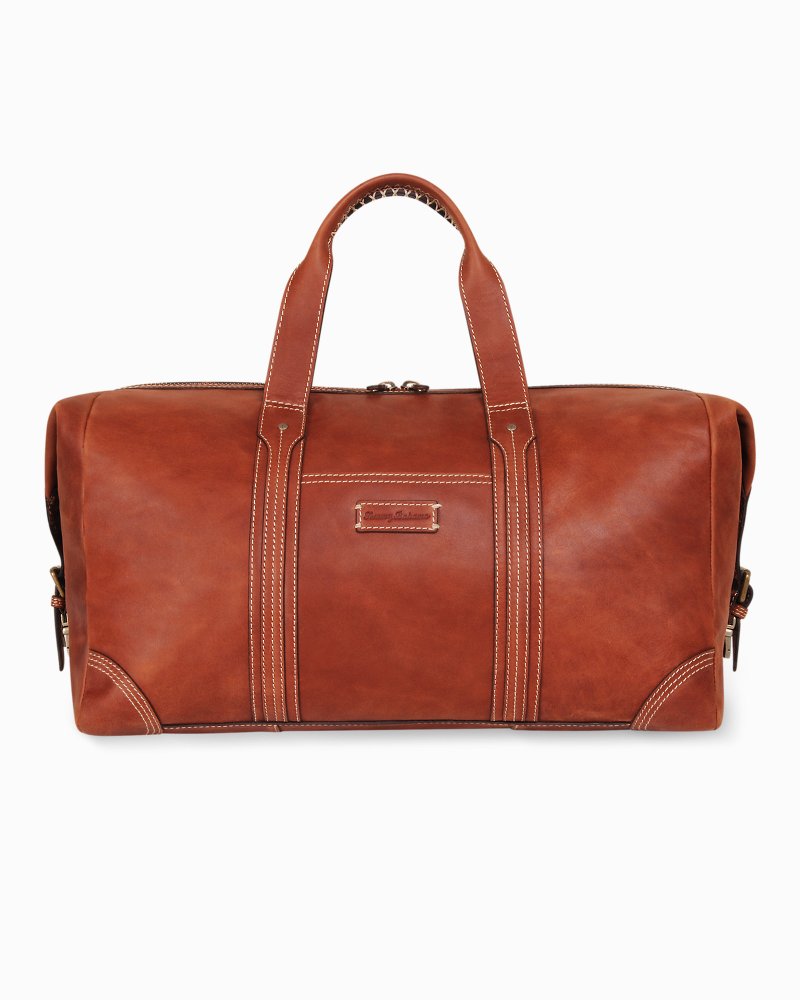 Back 9 Leather Duffel
$400.00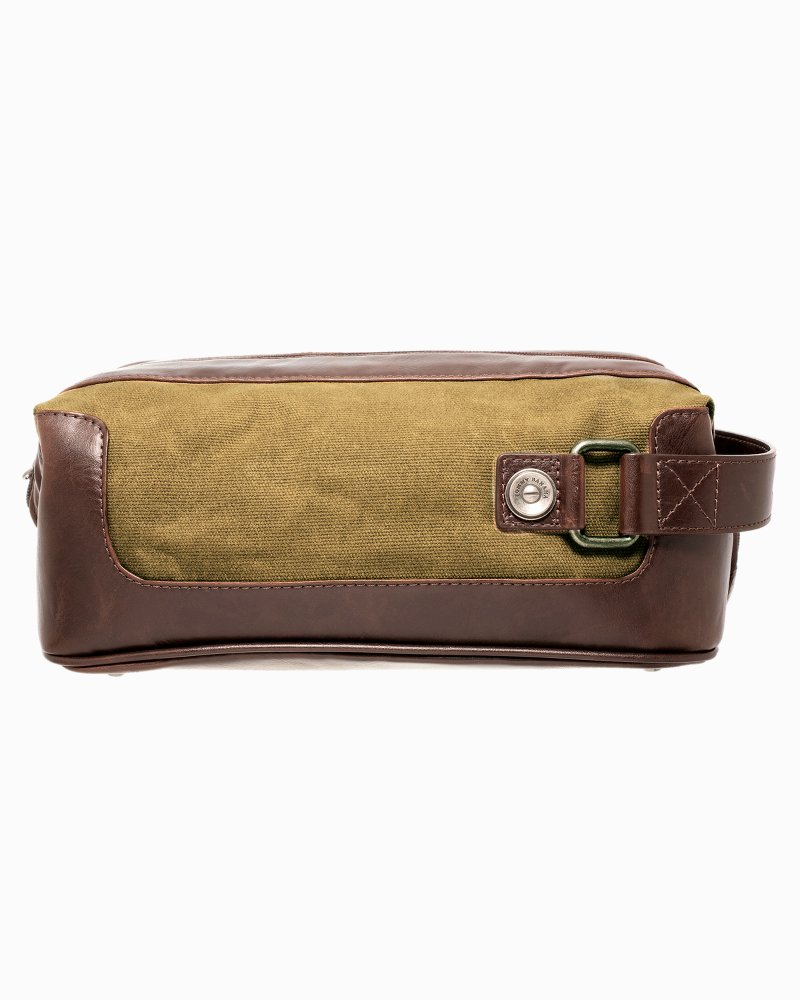 Sand & Surf Canvas Dopp Kit
$48.00
Canvas & Leather Messenger Bag
7
7
Pockets for everything, even a laptop fits in it!
I purchased this as a gift, not sure the recipient would want or need it, I just thought it was a great bag! Well, I hit a home run with this one! He emptied his old bag out immediately and loaded this one up! Loved it! Thanks Tommy Bahama for making me look like the perfect Santa!!
January 8, 2013
Nice bag-ineffective snap system for closing
I bought this for business trips but it became clear quickly that it would not be ideal as the snaps on the cover are the only mechanism to keep the cover closed and they are ineffective. Very nice bag but really needs an alternate snap or buckle to secure cover. Spacious enough for laptop and/or IPAD and comfortable to carry.
February 5, 2012
This product is a big disappointment
Love TB products and are my first choice BUT the bag does not please. Main reason is the poor clasp which always opensKen . I imagine the magnets are too small for the large flap.
February 4, 2012
The product is aesthetically pleasing to the eye.
I am in agreement with others who have been disappointed with the inadequacy of the magnet fasteners of the main flap. If anything asymetrical or having any girth is placed in the pouches underneath, it makes finding the magnets and fasteneing them difficult to impossible. The surface must be almost flat for the magnet system to remain strong enough to keep the flap securely closed. I think that Tommy Bahama should come up with some kind of a retrofit system that can be easily istalled by either a seamstress or shoemaker. Otherwise I will be forced to come up with a solution myself, which for $250.00 should not be the case.
December 30, 2011
The product is not a good as it appears in the catalog.
The product features were not as I thought after I order it. The feature such the leather did not feel as nice it looked in the catalog and pockets aren't deep as it looks. I wanted to use it as a brief case for daily use but once I got it with feel and look I don't believe it will would work in that capacity.
December 28, 2011
This product has plenty of room and a laptop fits easily.
The Bag meets my needs perfectly and I can fit everything I need into it with no problems. I would however prefer something more secure than the magnetic buttons to keep the leather flap closed and in place.
November 23, 2011
Extremely stylish and functional, but one small issue.
I bought and used this messenger bag for several weeks to carry my laptop, misc. equipment, and office papers. The variety of pockets was great. The one issue I did have with it, was the strap. The padded strap is comfortable, but it is too slippery to rest solely on my shoulder. It would slide off. I was forced to always place it over my head; thus using my neck to as a "stop". In this position, the bag was still comfortable; I just wish I did not need to do it every time. I love Tommy Bahama items. This is the first to slightly disappoint me. My son, on the other hand, did not care about this issue. He is now using the bag for high school. I must say I think he is the most stylish young man in his school!!!
August 28, 2011