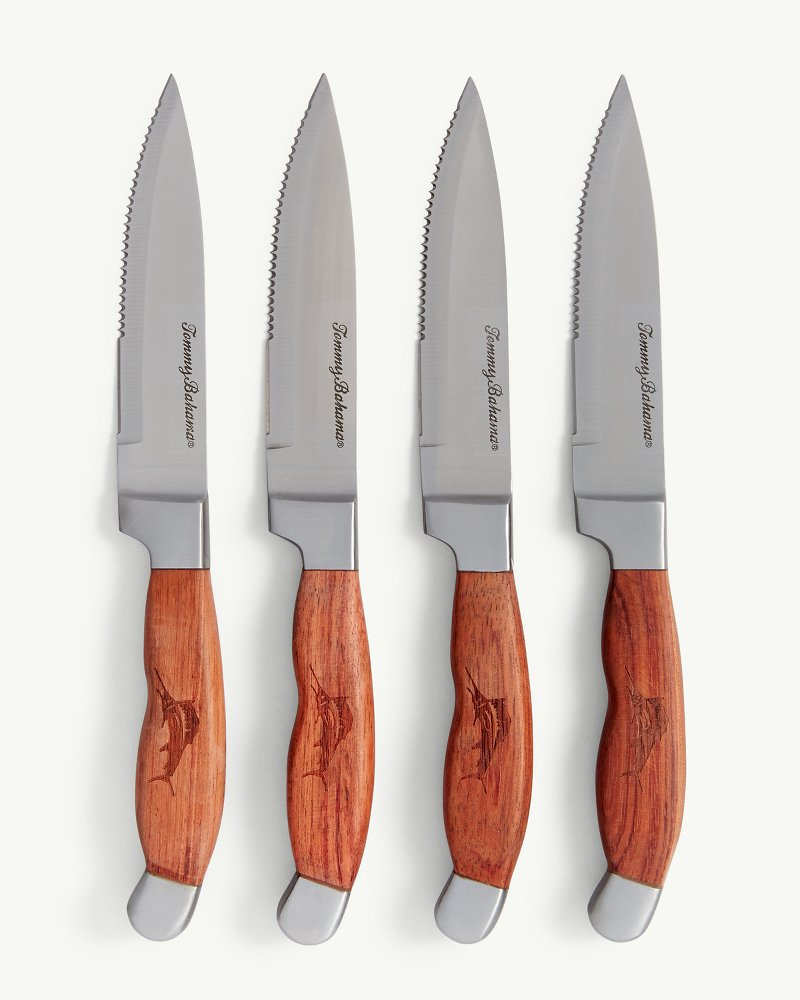 new - Rosewood Steak Knives - Set of 4 (# TH9609)
$50.00
These finely crafted knives are the filet mignon of cutlery. The razor-sharp blades are forged from stainless steel, boasting a honed tip and finely etched serrations for effortless slicing. Contoured rosewood handles provide a comfortable grip.
Rosewood; stainless steel
Care:
Hand wash before first use and after each use in warm soapy water
Dry with a soft cloth
Do not soak or immerse tools in water
Periodically rub wood with an oil-based cleaning product
Imported
TH9609
Rosewood Steak Knives - Set of 4
24
24
GREAT PRODUCT
THESE ARE THE BEST STEAK KNIVES I HAVE EVER HANDLED.
June 8, 2014
Great feel, balance and weight
Excellent knives for the price... great feel in balance and weight. Very attractive with a cool appearance. Only criticism is that one of the knives' logos was not printed very well, but not enough for me to return. Overall I'd recommend for sure! By the by... they cut great too!
January 3, 2014
Excellent Steak Knives
These steak knives are well balanced and look great. They are very sharp so you may want to keep them away from the children. I am glad I purchased 2 sets when I did.
January 2, 2014
heavy duty
This is a beautiful and heavy duty knife set.perfect for dinner parties.
December 29, 2013
Great gift for a Dirty Santa Exchange
Purchased these for dirty Santa exchanged. They were a huge hit and were stolen several times. My nephew, who just bought a new beach house and is an avid fisherman, was the lucky one that took them home.
December 26, 2013
Beautiful knives!
These steak knives are beautiful, and are so comfortable to hold. Most important, they cut great!
December 22, 2013
These knives are great!!
We bought two sets of these steak knives for a total of 8 knives. They are bigger than we expected (think "steakhouse" size). They fit in your hand well and seem to be balanced well for use. We've only used them a couple of times so far, but like them a lot.
December 21, 2013
Awesome knives
Son absolutely loves these knives! Sharp, sturdy and wellmade.
December 16, 2013