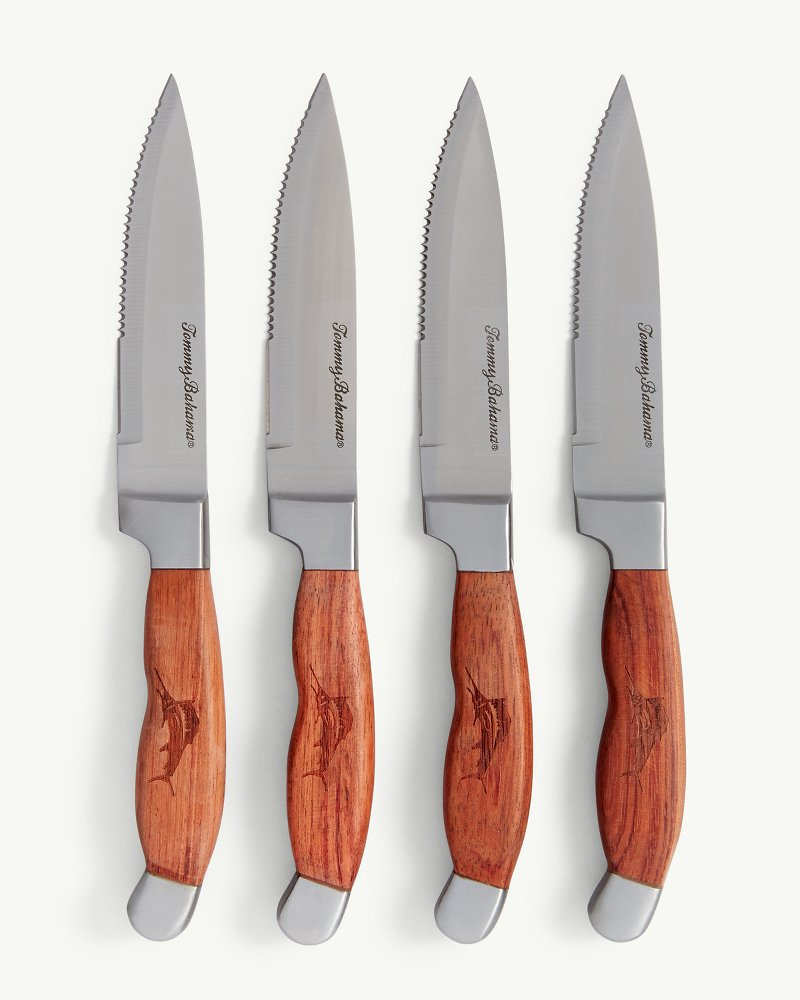 Rosewood Steak Knives - Set of 4 (# TH9609)
$50.00
These finely crafted knives are the filet mignon of cutlery. The razor-sharp blades are forged from stainless steel, boasting a honed tip and finely etched serrations for effortless slicing. Contoured rosewood handles provide a comfortable grip.
Rosewood; stainless steel
Care:
Hand wash before first use and after each use in warm soapy water
Dry with a soft cloth
Do not soak or immerse tools in water
Periodically rub wood with an oil-based cleaning product
Imported
TH9609
Rosewood Steak Knives - Set of 4
10
10
Excellent Choice
Everything we thought the knives would be. Very happy with our choice. Look great and cut even better.
April 9, 2013
Great solid steak knife
This is a beautiful set of four hearty steak knives. The wood needs some caring for if you want them to last and look great, but it is indeed solid rosewood. These are on the heavy side, so no doubt some folks may prefer a smaller knife. Very nice finish on the metal, and the edge has held up well thus far. I would recommend these for the at-home steak enthusiast.
December 31, 2012
Great Steak Knives!!!
I bought these knives for my husband because he has never found a steak knife that was worthy of its name. These are big full-size steak knives, very sharp and have a great handle to grip. They are also very handsome looking and will go great with our dinnerwear at the shore.
December 30, 2012
A BETTER STEAK
WOW, I've really managed to find one of the best knives made for a steak, they are sturdy, sharp and attractive! Excellent quality in it's best!! Don't pass these up!
December 30, 2012
Best Steak Knives Ever!
I have literally lived all over the world and can honestly say these are the best steak knives I have ever used! In fact, I ordered 2 sets! Very sharp, heavy and quite impressive looking! You will not be disappointed! Do not hesitate to buy these!
December 30, 2012
Great Knives
These knives are of the highest quality. They have very good steel in the blades and the rosewood handles are beautiful.
August 22, 2012
Brilliant Knife Set
I purchase this set as a gift for my husband for Father's Day, he loved them. Quality through and through, the blades have done wonderfully and the handling is great. Highly recommended for any occasion.
July 13, 2012
ecells at meeting all requirements of a good steak knife.
Good weight, fits in the hand nicely, cuts meat like it was butter, and it looks good too! Makes me want to eat steak every day.
July 10, 2012