SHIP TO: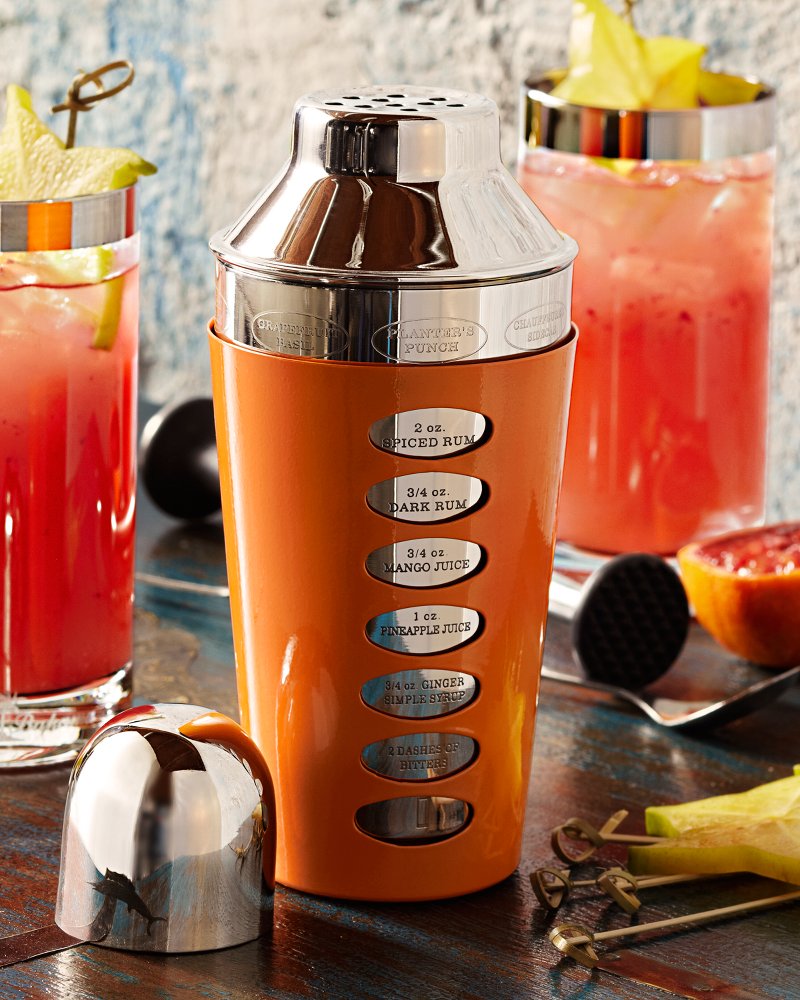 Cocktail Recipe Shaker (# TH31219)
$40.00
It's almost party time and your drink recipe book is nowhere to be found. Not to worry — this convenient cocktail shaker has you covered! With eight of our original cocktail recipes on the exterior, it's made from premium 18/8 stainless steel and has an integrated strainer to hold back ice. To read the recipes, simply turn the attached sleeve to see which ingredients and glass you need. It's a home bar essential no mixologist should be without!
18/8 stainless steel; orange powder-coated metal
3" in diam. x 9" tall
Holds 20 fl. oz.
Features eight of our cocktail recipes etched into metal: Chauffeured Sidecar, Scratch Lemon Drop, Coconut Cloud, Kraken Up, Baja Margarita, Crazy Cuban, Grapefruit Basil and Planter's Punch
Top cap, strainer and stainless steel cup are dishwasher safe; wipe orange recipe selector sleeve with damp cloth
Imported
TH31219
Cocktail Recipe Shaker
5
5
Great idea brought to life!
How original, I've never seen this before. It is so great having recipes right at your finger tips. Takes all the guess work out of the equation which is helpful at the bar. Loved this so much I bought another for my daughter and her husband, it was a hit! Happy Huladays!
December 29, 2013
Very unique and useful product
I had never seen such a beverage shaker in the past. With the built in recipes for interesting drinks, it takes the guesswork out of home bartending for family and friends. It also brings up interesting discussion about beverages.
September 20, 2013
Great Shaker
Wonderful shaker with great recipes. A super addition to our TB bar collection.
September 14, 2013
Fun and functional!
I wanted to stock the lake house with some fun new ideas for summer relaxing and so purchased this. It has some fun drink mix recipes and all you have to do is turn the middle section and try out another new one!
July 13, 2013
Recipes differ from TB recipe book
This shaker is great for those that don't want to pull out the Tommy Bahama recipe book every time they want to have TB cocktail. However, the recipes on the shaker are different than the recipes in the recipe book. Which is correct? Guess we'll never know. As far as the shaker it's self, it is nice quality but a little expensive.
July 1, 2013