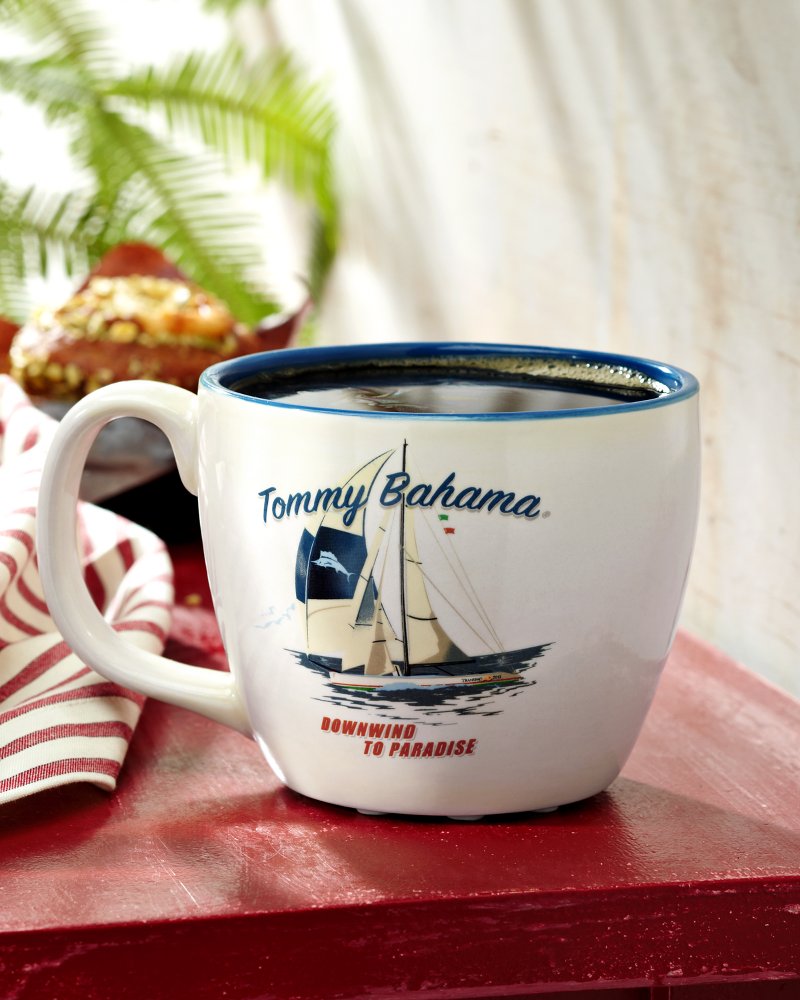 Downwind to Paradise Ceramic Mug (# TH31128)
$15.00
Showcasing our custom, sailing-themed artwork, this oversized mug will send your thoughts "Downwind to Paradise" with every sip you take. It easily holds 16 fluid ounces of your favorite beverage and is microwave and dishwasher safe.
Ceramic
4.5" in diam. x 3.75" tall
Width: 6" (with handle)
Imported
TH31128
Downwind to Paradise Ceramic Mug
2
2
Yet another great TB item for my boat
I bought this coffee cup to enjoy my 1st cup of coffee on my Beneteau Oceanis 41 it fits in with everything else in there.it holds a lot of coffee...yea
March 29, 2013
Great handle/comfortable and easy to hold
I received this mug as a gift. Very solid construction. I put 16 oz (measured) of water into the cup and the water level was approx 1/2 inch from the brim, which is lower than shown in the picture. Solid 16 oz without worries of spilling hot coffee (chowder/bisque/soup/etc), meaning the picture shows more than 16 oz in the cup. The graphics are of high quality. There may be a clear glaze over the graphics to protect them, I can't really tell for sure, however the graphics shouldn't wash off. There are small round ceramic protrusions on the bottom that are not glazed which allows the mug to "grip" the surface it is sitting on to prevent sliding..."very nice" when you live on a boat! Usually, the first thing I "mumble" about is the high price and inferior quality of products and services for sale in the marketplace. At $15, I think the mug's features and quality makes it a "fair and reasonable" price. The price is not cheap, but neither is the quality of this mug. At 58 yrs old, it's the "little things" in life I appreciate and enjoy. I'm very happy and pleased with my gift!
March 4, 2013