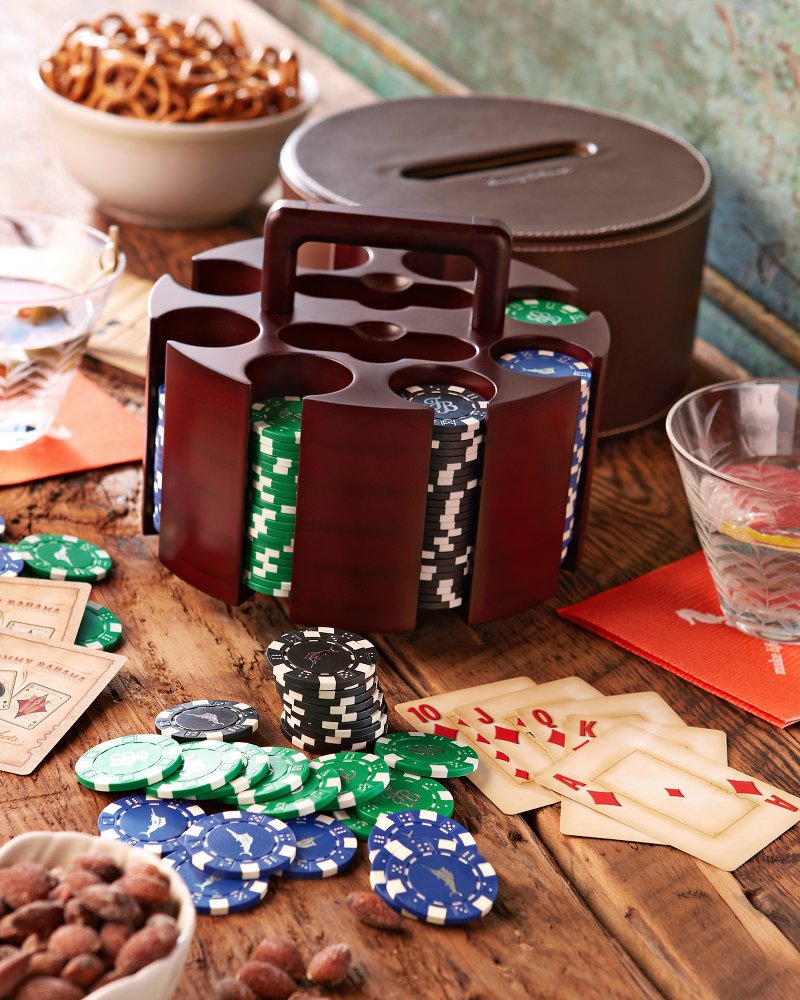 Leather Poker Caddy Set (# TH9429)
$200.00
Give poker night an upgrade with this professional poker caddy. Complete with two decks of cards, a rotating wood case and rich leather cover for storage, this impressive set really
ups the ante
.
200 clay chips
5" x 8"
Imported
TH9429
Leather Poker Caddy Set
13
13
Very apealing, most of the metal in the center falls off.
Recieved as a Christmas Gift, opened 1 pack of the red chips and the metal started falling out. Returned and recieved another set and the same thing. I'm currently super glueing them back on but took more than 1 tube and have not gotten more glue yet.
January 29, 2013
Not a Bad product. Most will last a Lifetime
Upon getting this item home and out of the box, it looks as if it will last a lifetime. Very sturdy!!! On closer inspection a few of the metallic buttons fell off. I suspect they came loose during shipping. They easily glued back on and the others were on fairly secure. Easy Fix. Realy nice set!!!!
January 25, 2013
Need to return
Hello, well we went to use the product for the first time over the weekend and the silver part that states Tommy Bahama is coming off on several coins, we didn't even unwrap them. the top ones on the stack silver plate is coming off the coin. Can I return in the store.
January 24, 2013
Need to be resourceful
I would have given this piece a 5 out of 5, except for the fact that the metal pieces fell off of most of our chips. Thankfully we are resourceful so we used Gorilla glue to stick them all back on - which we decided would work better and longer than returning and ordering a new set, which in all likelyhood would have caused us the same problem. It was no less than embarrassing to encounter the issue since it was a Christmas present. Other than that, we love the piece & it's absolutely beautiful!
January 15, 2013
Chips need better glue
The coins glued to the chips are falling out. We play only one time as a family and at least 30 silver coins fell out of the poker chips. Very frustrating when you pay $200 for a nice poker set.
January 7, 2013
One of my favorite presents ever.
I've had this chip set for a few years and came back looking for information to write about it for a blog, it's just that impressive. The chips hold their own for playing and are near if not the standard weight despite the showroom look. The case is solid, functional and holds up well. Put together this piece stays out all the time as it's far more than just a chipset.
December 11, 2012
Excellent quality poker chip set, highly recommended!
I purchased this as a gift for my best man and groomsman for my recent wedding and they both loved it! Haven't had a chance to play with it yet, but the quality caddy, leather finished cover and weighted chips will be an excellent addition to any home poker game.
October 7, 2012
High quality
This set has a high quality rich finish on the wood caddy and the leather cover is very impressive, just wish I could play cards more often.
January 8, 2012