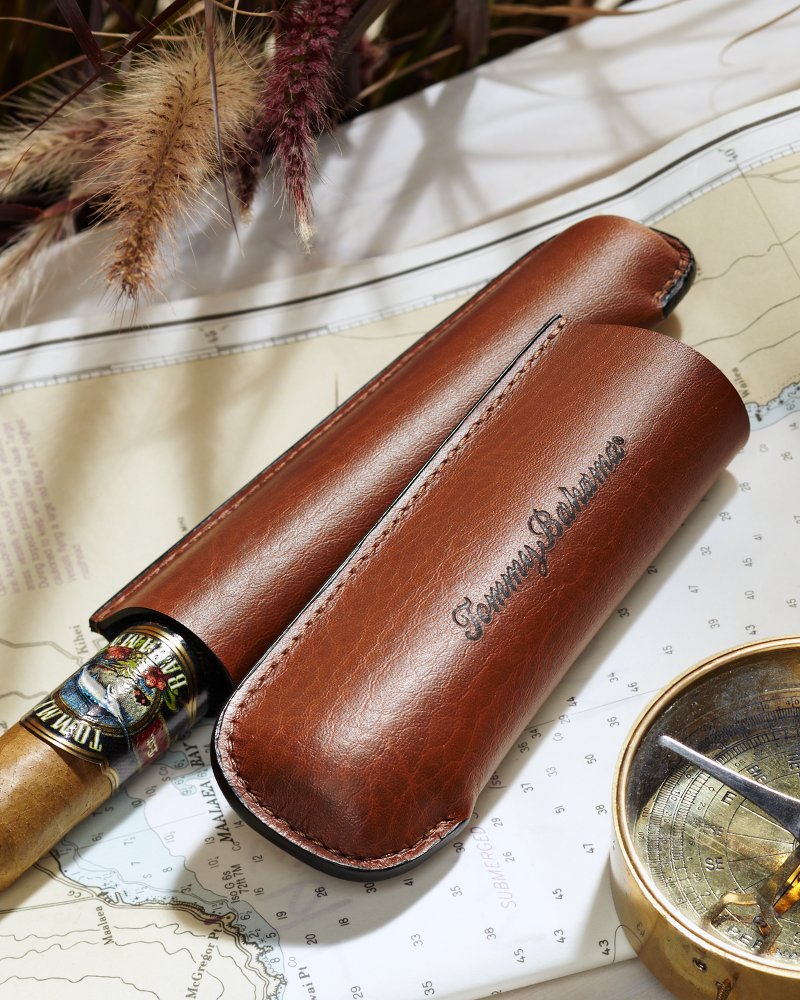 Leather Cigar Tube (# TH30953)
$26.00
On the front nine or on the way to poker night, this sleek telescoping cigar tube provides protection for the in-between. Crafted from beautiful, bonded leather with our debossed Tommy Bahama® logo, it can accommodate a cigar up to a 54 ring gauge.
6.75" x 1.75" x 1.5"
Handcrafted in brown bonded leather
Expanding telescopic case
Debossed Tommy Bahama® logo
Cigar in photo not available
Imported
TH30953
My father loved it.
I picked this up for Father's Day. My father loves it, and it's always with him when he leaves the house. I'm sure it will look even better as it wears and gets used.
July 5, 2014
Great quality!
Before ordering this as part of a gift, I read reviews and was a little leary of purchasing because some people said the leather was too dark to see the inscription. At such a reasonable price I figured I didn't have much to risk and am very pleased with the color and overall quality!
January 14, 2014
Just as expected!
I bought this for a gift and it was a hit! I may order a second!
January 2, 2014
nice case
VERY WELL MADE SINGLE CIGAR CASE, FITS UP TO A 60 RING GAUGE, VERY TIGHT BUT IT FITS, ALSO WILL HANDLE A 8 INCH GAR, NOT TO BIG SO IT FITS IN ANY POCKET ,I LIKE IT ,BUY ONE
March 12, 2013
surprised
My Husband loves this cigar holder. He takes a cigar with him to our friends house and now he say's he has a great cigar holder to show off. I was very pleased with it and he said it should last a life time.
January 15, 2013
Elegant way to protect your cigar
I gave this leather cigar tube to my son for Christmas as a stocking stuffer. It is of exceptional quality, and protects cigars when traveling.
January 11, 2013
Very Nice single cigar holder.
This leather single cigar holder was a perfect Christmas gift for my husband. It is so easy for him to carry instead of a multiple cigar holder when you only want to have one cigar. AWESOME!
January 2, 2013
Very ugly colour ...
The color of the product actually is not what you see in the picture. It is a very ugly color and the logo is not black as it seems to be in the picture. I have other leather cigar cases and the only reason I ordered this one was the vibrant brown color shown in the picture, but unfortunately in reality it is not even close. Now I am stuck with Cigar Tube that is very ugly color that I don't like and probably never going to use.... Very disappointed ...
December 20, 2012