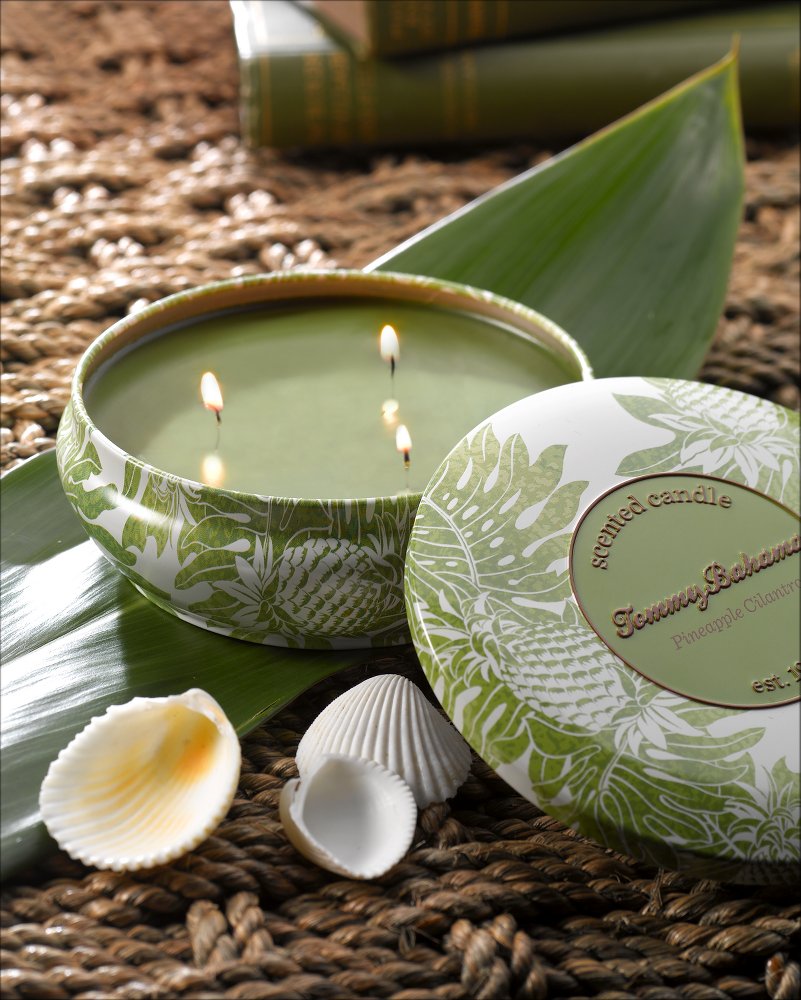 Printed 3-Wick Poured Candle Tin (# TH30542)
$26.00
Even unlit, this 3-wick candle brings a sense of paradise to any setting. Printed with tropical artwork, it's an easy addition to any casual décor. And once you light the wicks, the fragrant aromas will transform any space into an island oasis.
12.7 oz.
Burn time: 40 hours
5.25" in diam. x 2" tall
Imported
TH30542
Printed 3-Wick Poured Candle Tin
40
40
Island Paradise
I recently purchased this candle in the Coconut Mango at a Tommy Bahama Store here on the main land. The smell is so wonderful. It reminds me of my first trip to Hawaii and how I loved the way the air smelled. Clean, fresh and tropical. I will be purchasing several more of these!
March 25, 2014
Per Tommy Bahama style: PERFECTION...
A few years ago a friend gave us the pineapple cilantro candle for our marriage and honeymoon at the Hyatt Regency in Maui. Well, now we always have the single wick tin for the return anniversary vacations to Maui every other year and we have a 3-wick for our bedroom at home. Whenever we light up this candle it takes us back to one of the most beautiful places in this world and for a brief moment in time, everything is "Perfect" in this world... My pray is that you will enjoy this product as much as my wife and I do... Aloha…
March 14, 2014
Not for me
The smell is nice. The candle does not seem to last & the smell is not strong as other brands I have purchased. Not a fan for the price
February 11, 2014
Lovely candle!
This candle smells AMAZING, even when it isn't lit. I love it! It is lasting a long time too.
February 6, 2014
My favourite candle!
I love the smell of this candle, it takes me back to Hawaii when I light it, can never have enough of them!
February 4, 2014
Best candles!
These are the only candles I have purchased for the last couple of years. Nothing compares! I have given several as gifts and everyone raves about the scent. Pineapple Cilantro is my absolute favorite. Highly recommend!
February 1, 2014
DOESN'T LAST LONG
We burned both the small and large candles and the large obveously made it longer than the small one, but both burned improperly, leaving too much wax around the edges with the wick burning through so we can longer burn them. We burned the proper amount of time to allow the candle to melt evently, and it didn't happen for these candles. The smell is fantastic but for the money we paid, we should have gotten more use out of the candles.
January 21, 2014
Best Smelling Candle EVER
I didn't even have to light this candle to be able to smell it! Best of all, I didn't pay a dime for it since Tommy sent me a $50 promotional!
January 19, 2014