SHIP TO: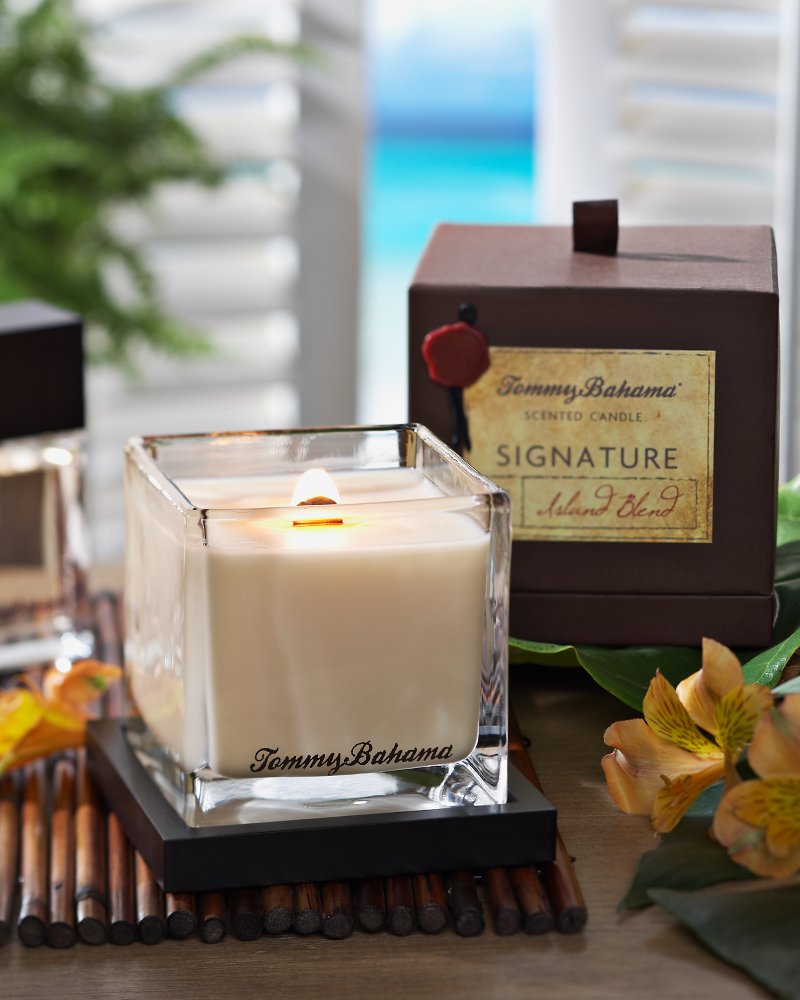 Island Blend Square Poured Candle with Wooden Wick (# TH30877)
$68.00
From the moment they arrive, guests in our stores enjoy a relaxing atmosphere formed by our signature fragrances. Now you can experience this unique blend of relaxing scents any time or place, simply by lighting our Island Blend poured candle. With top notes of pineapple, mandarin and cilantro, it delivers the ultimate combination of tropical bliss. Plus, its wide, wooden wick produces a pleasing crackling sound as it burns. A handsome wooden lid doubles as a convenient base.
17.5 oz.
4" x 4" x 4"
Burn time: 90 hours
Island Blend: Notes of Maui pineapple, island mandarin, cilantro, tropical mango, luscious papaya, sea jasmine, driftwood, cedar and island musk
Tommy Bahama® logo on the glass exterior
Textured storage box with vintage-style label and wax seal
Candle made in USA; some materials imported
TH30877
Island Blend Square Poured Candle with Wooden Wick
15
15
The Island Blend Square Poured Candle is lovely.
I love Tommy Bahama candles. I order ahead and keep an "open stock" . That way I never run out. Actually, I haven't used the latest one as I have it in reserve. However, I do get it out occasionly simply to admire it. Just looking at new TB candles makes me happy. My current TB candles and diffusers are still going strong. Especially in my foyer. I love the welcoming TB scent that greets guests. Not to mention how much it pleases me. I do miss the TB three wick poured candle in glass with circular wooden lid, that serves as a base. It was last priced at $88. Then it was discontinued. Lucky for me I had a stash of this candle. However, I am on my last one. Please bring it back to your inventory. And there you have it. I have no complaints with any candles and scents from TB. I just keep wanting more. They please me and make me smile. I do have a problem throwing away the beautiful packaging. Example, the gorgeous box the Island Blend Square Poured Candle is in. What more can I say? Even the Tommy Bahama packaging makes me smile!
August 19, 2014
Wonderful Scent!
I was surprised to see how substantial this candle was when I opened the meticulously and beautifully packed product. I was expecting something smaller so I was happy about the size considering it is not a cheap candle. (I bought two.) The divine scent fills my whole condo when lit. Even my husband loves the scent. I will definitely buy it again. Also a great gift idea!
July 15, 2014
Gorgeous
Gorgeous signature scent - you don't even need to light the candle, the room is filled with a gentle scent!
April 12, 2014
This candle smells WONDERFUL!!!!
I purchase a lot of candles and I must say this is one of the best - a little pricey but well worth the cost. it burns beautifully and the smell is magnificent !!!
April 11, 2014
LOVE it!!!
LOVE the scent...makes our house smell like a TB store and reminds us of Hawaii!!!
February 3, 2014
brings home the essence of calm lov it
relaxes your sense's to that place of calm like after you exhale.. or just finally feel relaxed to enjoy your vacation, this brings that home with you.
January 31, 2014
Great smell, nice presentation
I am a candle lover, I try several different brands and scents. This is one if my favorite candles. The glass container is very nice and the wood base is a nice touch. This candle is perfect for a romantic evening! Pleasing smell for women and men. I would highly recommend this candle
January 10, 2014
Fantastic candle
The island blend is my favorite Tommy Bahamas scent. This candle is long lasting and even makes the room smell good when it's not lit. Fantastic product!
December 21, 2013