Wood and Leather Folding Ashtray (# TH30950)
$65.00
From poker night to your daughter's rehearsal dinner, this folding ashtray has everything you need to enjoy a well-deserved cigar. Crafted from mahogany and trimmed with rich leather, it has stainless steel accents including a removable tray and holder. With a surgical steel blade cutter and a spring-loaded punch mechanism, there's an option for any shape or size of cigar you enjoy. Its folding design makes for easy travel or storage when not in use. Our debossed logo adorns the lid's leather panel.
4.75" x 4.75" x 2.75" closed
Mahogany; exterior leather panel on lid with debossed Tommy Bahama® logo and topstitch accents
Brushed stainless steel parts:
Removable tray with Tommy Bahama® logo
Cigar holder
Cigar cutter with surgical steel blade and Tommy Bahama® logo
Cigar punch with "spring load" to keep in place when closed
Folding design makes for easy travel or storage when not in use
Cigars in photo not available
Imported
TH30950
You Might Also Like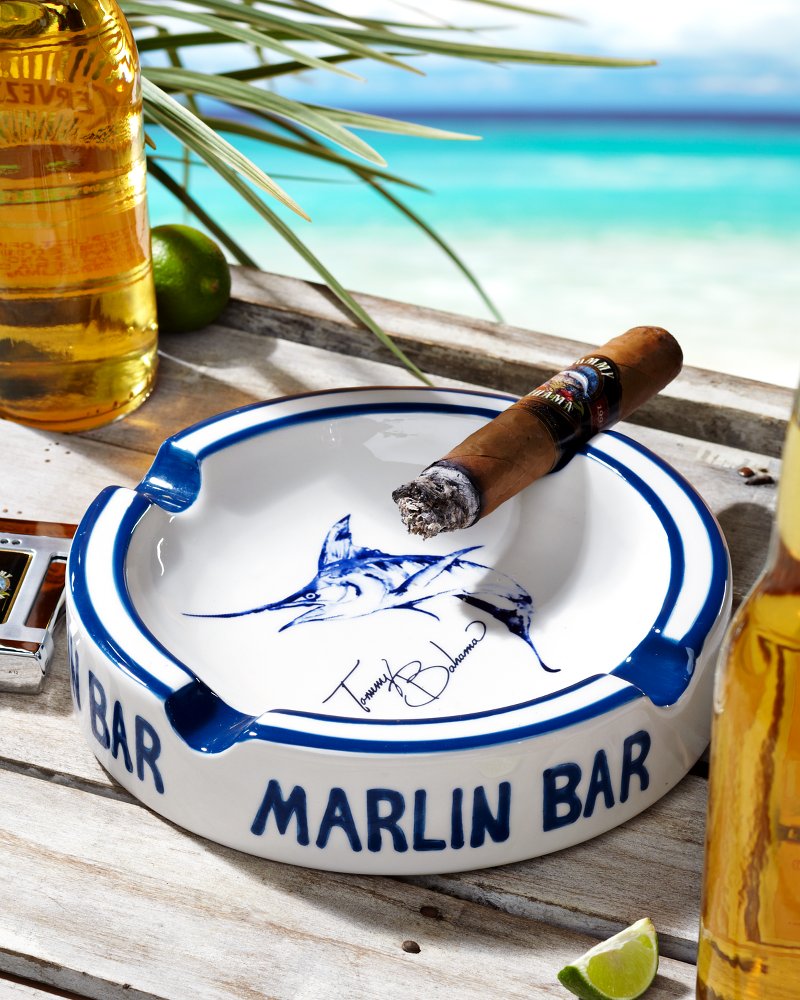 Marlin Bar Round Ashtray
$38.00
Wood and Leather Folding Ashtray
8
8
Great gift for the man who has everything.
My boyfriend loves this travel cigar ashtray set. It has a classy look and is made of quality materials. The only imperfect feature that we've noticed is that the punch falls out when you close it up. No big deal really, he just puts it back in when it gets opened. He even takes it with him when we go to a friends for a pool day.
March 23, 2013
Great for Travel
I gave this to my husband to take to the islands and he really enjoyed it. The magnets that hold everything in are really great. It looks fabulous sitting out when it is closed.
February 3, 2013
Very nice little unit for cigar lovers.
Neat little unit. Well constructed. Nice to have along with you to keep the cigar smoker from trashing up a place that may not be suited for cigar lovers. Cigar cutter stays in place when closed with magnetic insert in base.
January 18, 2013
Cigar Travel Set
This is a great set. I gave it as a gift and the recipient loved it. Well made and durable for travel.
January 15, 2013
Handsome, sturdy, fully functional
This simple but elegant ashtray is just the right size to accompany me on my next golf trip or beach vacation where I can sip on a cold one and enjoy my latest smoke. Sturdy and fine looking.
January 14, 2013
Not for air travel
This ashtray really surprised me on how nice it is. The exterior case looks classy and it has everything you might need to smoke a cigar on the fly. The size is good, easy to take with you. The only negative is the weight which will prohibit it from being taken in a carry on when flying. My husband will be using it at home and in his vehicle but not when we travel which is why I purchased it.
January 12, 2013
Gift receiver was thrilled
He loves wood, also liked the cutter set up. Liked that a puncher was included.
December 26, 2012
Good Idea but Poor Execution
Was hoping for quite a bit more from this collection. Pros: Compact design with three useful accessories for the occasional cigar smoker. Cons: Materials are sub par for the price. Too heavy for travel. Ashtray is very difficult to remove and would prove to be messy if it contained ashes during the procedure. The punch falls out consistently when the lid is closed. Wood would discolor when the cigar burned low; they should have designed the metal holder to slide closer to the ashtray. There is no mechanism to seal the closed box, so naturally the smell seeps into the environs.
December 25, 2012