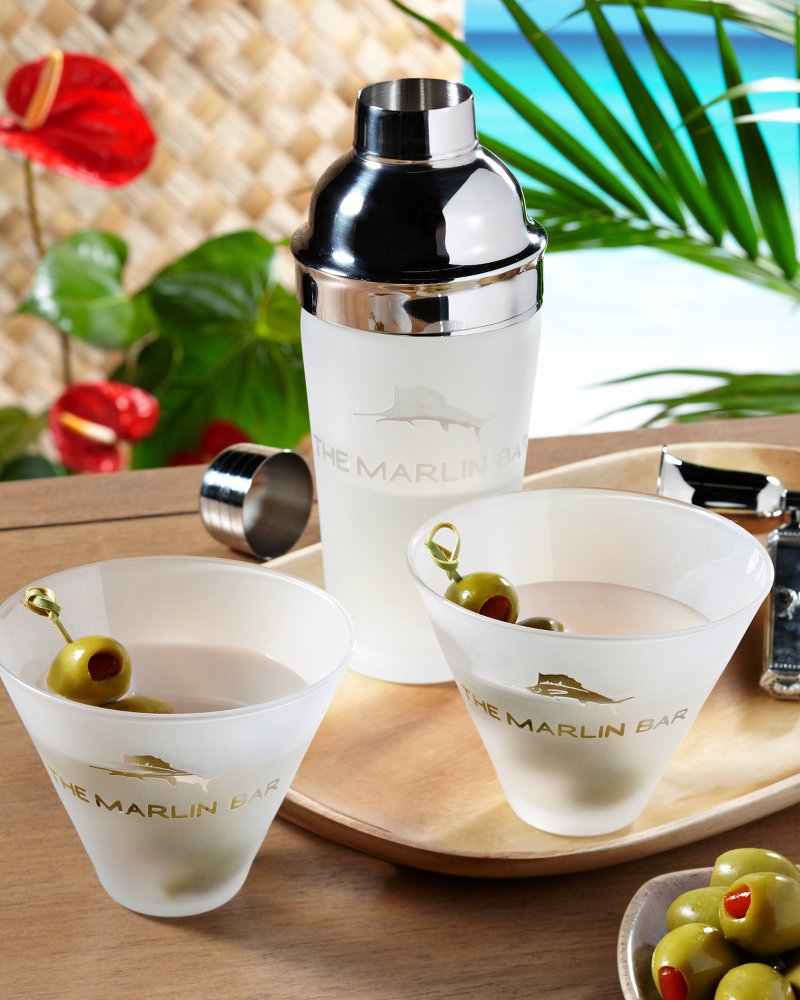 Marlin Bar Martini Glasses and Shaker Set - Originally $58.00 (# TH30922)
$29.00
This 3-piece martini set is a classy way to celebrate the Marlin Bar, part of our
Manhattan Island
store and restaurant location. Featuring a frosted-glass shaker and martini glasses, it's also an essential part of cocktail hour and ideal for mixing and serving martinis for two.
Set of 2 martini glasses:
Frosted glass with clear Marlin Bar artwork
4.5" in diam. (at top) x 3.5" tall
Holds 12 fl. oz. each
Shaker:
Frosted glass with clear Marlin Bar artwork
Stainless steel cap
3.25" in diam. x 8.75" tall
Holds 16 fl. oz.
Decorative gift box: 10.75" x 10.75" x 5.625"
Jigger sold separately
Originally $58.00 - Now $29.00
Imported
TH30922
Shipping restrictions apply [
details
]
Marlin Bar Martini Glasses and Shaker Set - Originally $58.00
9
9
I recommend this product
The quality is great and the shaker is wonderful. I want to buy more glasses to make a set but they are not available separate from the Shaker. Too bad as this otherwise deserves a five rating. JTV
April 1, 2013
It is a great item to have in your home!
I buy things from Tommy Bahama all the time and I enjoy everything I buy and Get from Tommy Bahama They Rock. Thanks You Corn Swift.
February 16, 2013
Glasses great, Shaker not so great
The Marlin bar Martini glasses are great. I wish they were sold separately so I could get a set of four or six. The seal at the top of the shaker did not last long so it is not ideal.
February 15, 2013
Bar Fun!
I am well aquainted with the TB clothes line and have many of them to prove it. However, I had never tried any of the household furnishings items until I ordered the Martini Set! This is the handiest addtion to anybody's bar items. It is attractive, functional and lots of fun. I recommend.
February 3, 2013
Absolutely love the shaker martini set, Nothing like a ice cold Martini shaken not stireed as James Bond would say.
I love the Shaker set that i recently bought for myself at Christmas, I had an opportunity to show it off with a little get together with friends, and as they say in the Movies, I prefer my Martini's Shaken not stirred.
January 28, 2013
great product we love it
I am a first time buyer on line with Tommy Bahama and the service was great along with the packing. We have use our shaker with our family and friends and they love the look. When we first got our box and opened it one glass was broken and we called to let you know and you replaced it with no problems. Thank you very much. we will continue to tell our friend about your product and service. Again we thank you and enjoy our shaker and glasses.
January 27, 2013
Welcome Tommy Bahama to Manhattan
I love the set the only reason I did give it a 5 rating is that I would like to purchase additional matching glasses and they are not available
January 14, 2013
quality and fun to use!
The glasses, shaker and contents of both were definitely up to my expectations. The high quality glassware is not only attractive, but well designed and unique. The shaker makes the best martini I've ever had. I may take it with me to the beach! :)
December 30, 2012