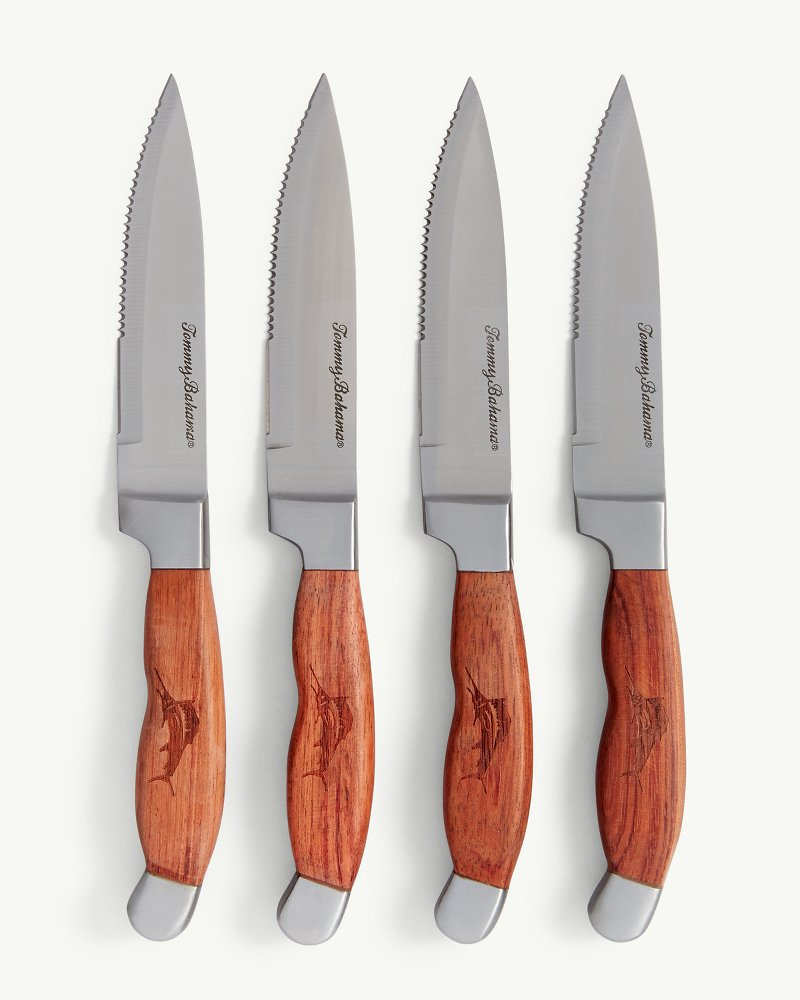 Rosewood Steak Knives - Set of 4 (# TH9609)
$50.00
We wish we'd made more, but this product is SOLD OUT.
These finely crafted knives are the filet mignon of cutlery. The razor-sharp blades are forged from stainless steel, boasting a honed tip and finely etched serrations for effortless slicing. Contoured rosewood handles provide a comfortable grip.
Rosewood; stainless steel
Care:
Hand wash before first use and after each use in warm soapy water
Dry with a soft cloth
Do not soak or immerse tools in water
Periodically rub wood with an oil-based cleaning product
Imported
TH9609
Rosewood Steak Knives - Set of 4
16
16
These knives are great. From the forged serrated blade to the rosewood handles they feel very balanced in your hand.
I bought these knives for a friends housewarming gift, they were a big hit!
September 21, 2013
Fantastic Quality. Nice Design.
Every time that I have people over for Steak I break these babies out. They are a very solid construction and neat to look at. Highly Recommended
September 9, 2013
This product has great value, quality and appearance
This product has great construction, works extremely well and looks good doing its job. Plus they have the added benefit of bringing a touch of the Island Lifestyle to your meal - great for the 'fun' meal.
August 30, 2013
THis is my second set of these knives. Not only are they amazingly beautiful but they work great too!
I purchased a set of these knives at the Maui store and could never find them again. When I saw them on line i quickly ordered them again. They are awesome! Not only beautiful and tropical but very functional as well. Love Love Love!!
July 1, 2013
Super steak knives
If you want a great set of steak knives, look no further. Get two sets. Not only are they functional, but they look great also. Very pleased with these.
June 29, 2013
This product is awesome
The TB steak knives are nice and heavy, cut great and look awesome on my Tommy Bahama table setting!!! Highly recommended for the TB lover!
June 10, 2013
Excellent Choice
Everything we thought the knives would be. Very happy with our choice. Look great and cut even better.
April 9, 2013
Great solid steak knife
This is a beautiful set of four hearty steak knives. The wood needs some caring for if you want them to last and look great, but it is indeed solid rosewood. These are on the heavy side, so no doubt some folks may prefer a smaller knife. Very nice finish on the metal, and the edge has held up well thus far. I would recommend these for the at-home steak enthusiast.
December 31, 2012