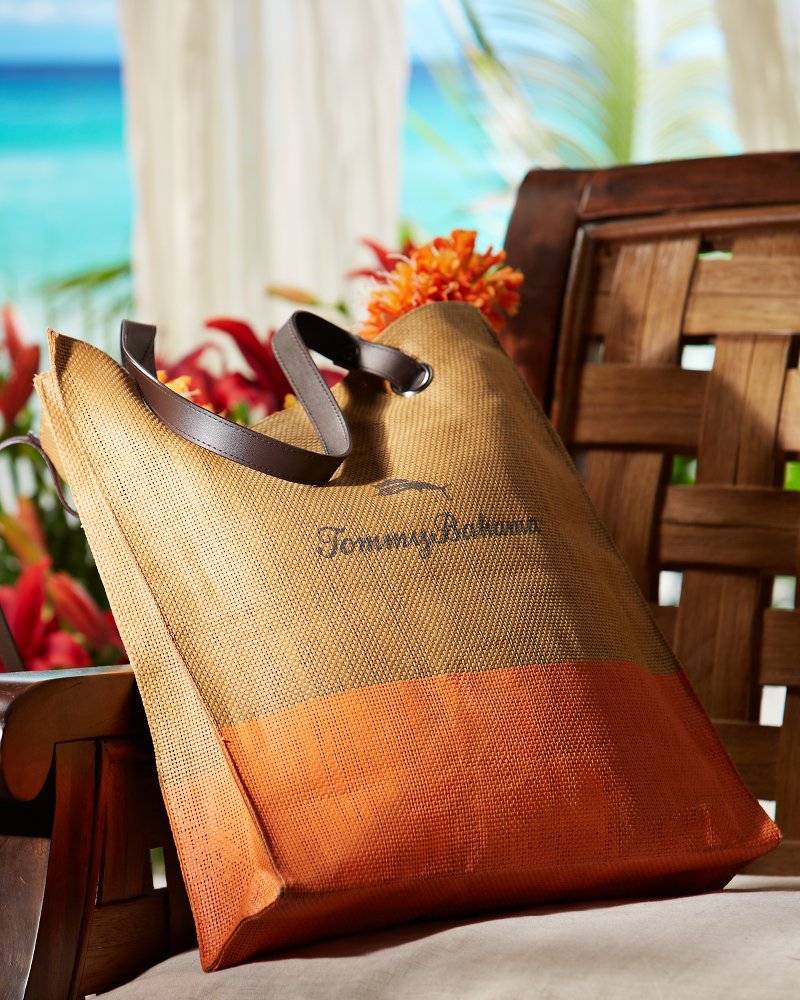 Tommy Bahama Shopping Tote (# TH31099)
$12.00
Shop in style while saving the planet! This fashionable, reusable tote is an eco-friendly option for trips to your favorite clothing boutique or the corner market. Made from woven paper, it has a smooth, cotton lining on the interior. The water-resistant exterior features a color-blocked design embellished by our Tommy Bahama® logo and sailfish icon. Circular metal grommets anchor the topstitched, faux leather handles.
Shell:
100% woven paper
Water-resistant exterior
15" x 3.5" x 16"
Lining: 100% cotton
Handles:
Faux leather
Drop length: 11.5"
Imported
TH31099
Tommy Bahama Shopping Tote
36
36
Great looking bag, poor quality
I really loved this bag when I received it. It appeared to be of good quality, and is the perfect size. However, after only a month and a half of use to carry my tablet (very lightweight) to and from work, the material around the grommets is shredding. Granted, the bag was inexpensive, but I don't find it unreasonable to expect a bag to last more than a couple months, especially given the fact that it is a Tommy Bahama bag. Very disappointed.
November 5, 2013
Great looking bag, nice size.
Well, after a few months of very light use the fabric under the grommets is shredding. I bought two of these bags for carrying lunch to work/sneakers to the gym and so on because the price is so reasonable. I'll use them till they fall apart then look for something alittle more durable.
September 23, 2013
LOVE IT!
I love this bag the minute I got it My sister loved it so much I had to order one for her too. I took it on a flight to Florida with some Souvenirs and some personal items I got lots of Compliments! Keep in mind its not made for heady stuff....
September 16, 2013
Very good for taking to pool as it stayed dry and was light weight
used for beach and pool worked well for us stayed dry and was light weight
September 8, 2013
very durable.
Great bag for shopping and traveling. Durable and sturdy. Recently used on a beach trip to carry magazines and toiletries.
September 3, 2013
Nice Tote!
This is a really nice well made Tote Bag for the price!
August 21, 2013
only wish it was bigger!
The leather handles are nice and the bag is sturdy, my only wish is that it was a bigger bag! Stylish island flair shopping tote.
August 17, 2013
Perfect for the beach
I bought this for my trip to Cabo San Lucas this Spring... I wanted something that was large enough to put my wallet and beach accessories in... While this bag is adorable and trendy, it is not a super strong quality... Meaning don't put water bottles or heavy materials in it and expect it to last long! Unfortunately it was a 1 time use bag for me… So ladies, pack lightly if you purchase this tote!
August 8, 2013