Overnight Leather Cigar Case (# TH30955)
$128.00
On weekends away or overnights to the coast, this travel case has everything you need to transport your cigars in safety and style. The interior mahogany tray secures with a bonded leather strap to separate and protect up to four cigars. Also included is a single jet flame lighter with a built-in punch and a stainless steel cutter. All housed in a beautiful, bonded leather case with an exterior zipper and debossed Tommy Bahama® logo, this handsome accessory goes anywhere.
Case:
7.75" x 4.75" x 2.5"
Handcrafted in brown bonded leather
Large zipper tab for easy opening and closing
Debossed Tommy Bahama® logo on outside
Interior:
Stitched bonded leather pouches with magnetized snaps located in the lid for convenient lighter and cutter storage
Mahogany wood tray with adjustable bonded leather strap; holds up to 4 cigars
Cigar cutter:
Brushed stainless steel
"Precision cut" double surgical steel blades
Etched sailfish icon
Cigar lighter:
Brushed stainless steel
Single jet flame
Surgical steel punch
Butane refillable (fuel not included)
Cigars in photo not available
Imported
TH30955
Shipping restrictions apply [
details
]
You Might Also Like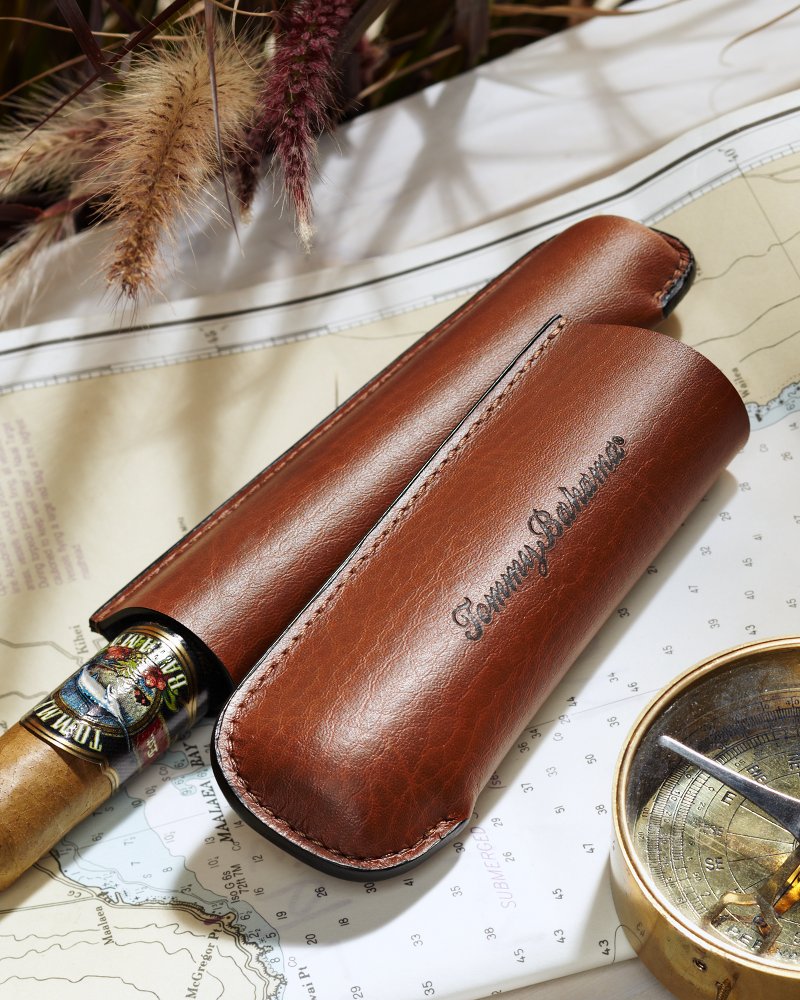 Leather Cigar Tube
$26.00
Overnight Leather Cigar Case
24
24
Cigar Travel case
i am enjoying my cigar travel case a great deal. i bring it to my golf match every Sunday. i really like the cutter and lighter that came with it also. Boo Yeah !!
September 20, 2013
Beautiful and Functional
I gave two of these as Christmas presents and thankfully received one as a gift. Both recipients are as impressed as I. Make sure you have your own humidification device, as it is not airtight. The magnetic snaps do not stay shut for the lighter and cutter, however both implements are of high quality.
March 9, 2013
Travel in style!!
This case is well made and beautiful. It will hold 8 of your best puros with no prroblem- 7 if you include a crystal tube for humidification like I do. The case is a tad heavy due to the wood. The magnetic tabs did not hold the lighter in well. The lighter and cutter are worth the price by their own.
February 18, 2013
Classy and elegant.
A great item with all items at hand to ejoy a fine cigar. Wouldn't it be great if you could incorrporate an ashtray in the cigar holder?||
February 8, 2013
Great product, easy to travel with, easy to pack
love the travel case, it fits my needs when traveling... easy to pack or store in the vehicle when traveling. Would like to see maybe a small flask ?
February 3, 2013
Great
If there was some sort of humidification I would have rated this excellent. Great for short trips for those that enjoy a cigar or two, a little bulky for an overnight trip. I prefer a punch and a triple flame lighter but, having everything together for travel is worth getting this set. Just add cigars and go!
February 3, 2013
Great for travel
i have been taking this weekly on my trips, great way to transport so that they do not get damaged.
January 28, 2013
Great features, BUT...
My wife got this for me as a gift (I dropped some strong hints!). I love the kit; looks great on my office desk and by the beach, but unfortunately I can only take it along on road trips. I learned that these fantastic torch lighters are not allowed aboard commercial airline flights, even if de-fueled and placed in checked luggage, lest the lighter be confiscated by security folks. If anyone knows otherwise, please speak up. Buy it anyway. Great stuff!
January 22, 2013