SHIP TO: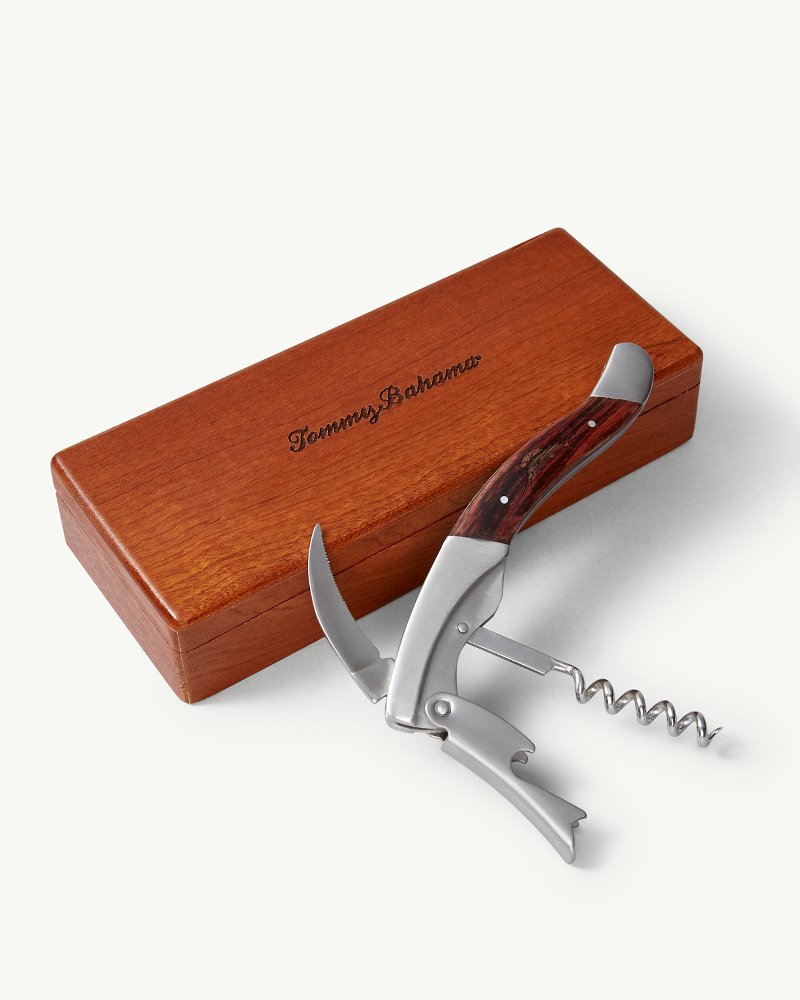 Rosewood Corkscrew (# TH30441)
$40.00
Never be unprepared in a wine emergency again! No island-time bar set is complete without this handsome, multi-tool corkscrew. Stainless steel construction frames a handle that's inlaid with rich, smooth rosewood. In addition to the corkscrew, it features a bottle opener and foil knife that fold neatly for safe, convenient traveling and storage. Laser-engraved sailfish on the handle; rosewood storage case with snap hinge.
Stainless steel; rosewood
Corkscrew (when collapsed): 5.5" x 1.25" x .75"
Storage case: 7.5" x 3" x 1.5"
Imported
TH30441
Great, attractive product
Great, attractive product. Very well built, easy to use, and I receive a lot of compliments on it. I use it as my travel tool.
February 25, 2014
Good Quality and Workmanship
I bought this because it reminded me of a similar corkscrew we had when first married 37 years ago. I absolutely love it. I prefer this over all the new easy to use cumbersome models that are out there. It reminds me of a simpler time.
February 4, 2014
Love it!
Just bought this corkscrew in time for our holiday parties. Loved how solid it felt and it works like a charm - blade cuts through foils easily and makes quick work of getting both natural and synthetic corks out of bottles!
January 2, 2014
Not very practical....
My husband loves the Tommy Bahama products, we spend alot of money every year on their clothes, candles and glassware. This year he decided he loved the look of this corkscrew and bought it along with the 24 wine glasses (red and white), but he has difficulty using it. The head is too curved I think, it does not open a bottle of wine very easily and we are so disappointed with this product. It is so expensive for a wine opener and will probably never use it......
August 31, 2013
Every bar needs one
A great gift, looks nice displayed in it beautiful wood case
January 8, 2013
This was a Christmas gift.
The corkscrew is heavy duty and the box is of the quality that I always anticipate from TB. It was a big hit when unwrapped for Christmas!
January 7, 2013
Very Very Handsome and useful
i finally have a corkscrew that fits in my hand, this is a little larger than most. if you try it you will reach for it first all the time. hats off TB
January 4, 2013
Highly recommend this product as it is very effective and easy to use!
The rosewood corkscrew as in all Tommy Bahama products is impressive initially from a visual appearance. Then when time comes to utilize the tool it is well designed and quite effecient. Another winner by TB.
July 20, 2012