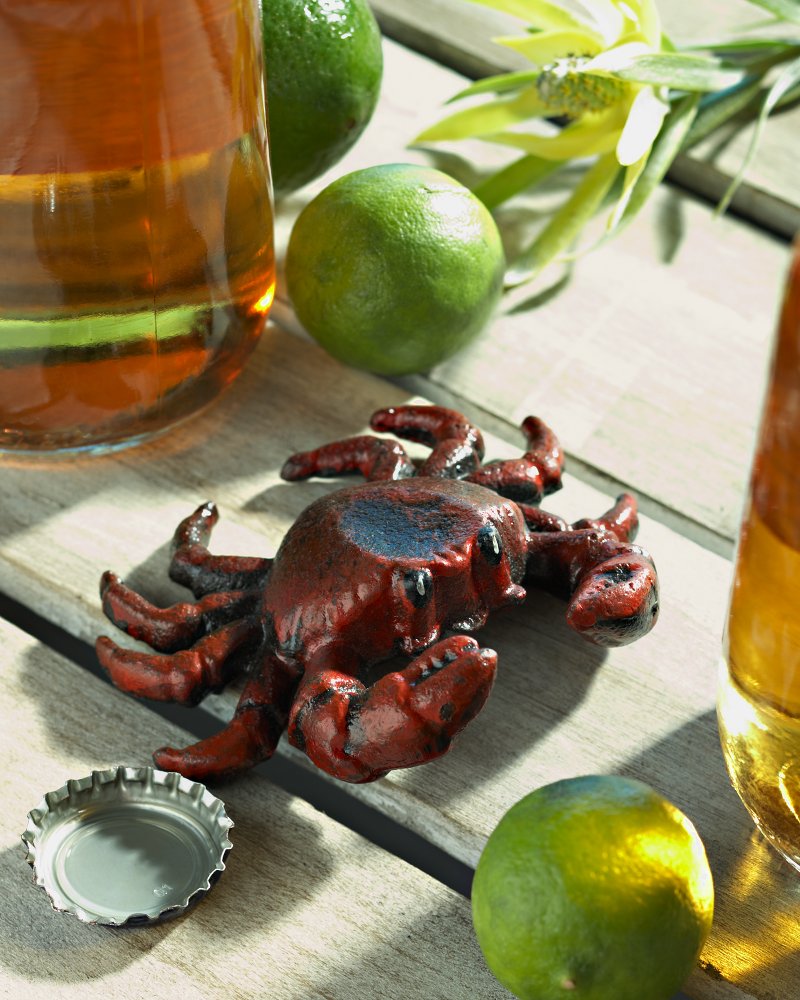 Crabby Bottle Opener (# TH2503)
$10.00
Unlike the surly bartender down the street, this "crabby" bottle opener doesn't expect a tip! Made of hand-painted cast iron, this great addition to your home bar will charm your guests and help them enjoy a cold one. Just slip the little guy's front claws or back legs over the cap, pop the top and enjoy!
Hand-painted cast iron
3" x 0.75"
Hand wash only
Do not place in microwave
Intended for indoor use
Imported
TH2503
Crabby Bottle Opener
25
25
Its good to be Crabby!
I really enjoy this bottle opener. My Wife bought it for me after I discovered what it was in the store (they had it with the candles). I sometimes place the open bottle cap upside down on top of it to give the crab a crown. lol
November 23, 2013
One... Heavy Duty Crab
This bottle opener was a great addition to my large iron bottle opener collection. I love the look and the quality of which it was made. Only downer is that it's probably not the easiest opener to use. Looks great in my beach themed living space. I actually gave one to my dad along with some steaks and crab legs for father's day. It was definitely a hit and a conversation piece.
July 26, 2013
Cuddly Crab
Nice little item to go with other Ocean theme to bath room ~ It dose a good job of opening Beers as well ~
July 20, 2013
It is an OK bottle opener. Takes a little to get used to.
The weight a this item makes me believe it is well made. The only issue is actually opening a bottle can sometimes be difficult. It doesn't get the best grip on the bottle top so it might take a few tries to get the top off. But it is a definite conversation starter and an awesome piece that I am very happy I added to my bar set.
July 12, 2013
Great addition to the bar
Sit this on the bar and it looks like decoration. Everyone is amazed when you claw the top. We use it for opening beer and for holding down extra napkins during dinner A must have if you're regular outside entertainer
July 5, 2013
Hard to use
This is a neat looking opener but hard to use. the opener is hard to get under a cap. If just using as more of a decorative piece, looks great. For everyday use, not quite so good.
June 11, 2013
Excellent as decor!
Probably a 3 star bottle opener but great as a napkin weight!
May 10, 2013
Awesome little crab
I really like this little crab. Everyone that sees it and uses it, loves it. I bought this one for myself, but I think I will be buying more for gifts. Again, it really adds to the Marlin Bar theme in your own house. Even though it is a must have, it isn't the easiest bottle opener, but with some practice, you'll be popping the top off the bottle with no problem.
April 3, 2013