Leather Cigar Bar Carrier (# TH30952)
$188.00
We wish we'd made more, but this product is SOLD OUT.
Perfect for romantic getaways to the coast or impromptu picnics, our beautiful, bonded leather carrier has all you need for portable luxury. A cushioned compartment safely stores up to 2 bottles of your favorite vintage, while an interior humidor keeps 7 cigars at the perfect temperature. It even has a multi-purpose tool that cuts your cigar
and
opens your bottle of wine or brew! A wrapped handle and shoulder strap make for comfortable carrying; brushed nickel hardware provides a stylish accent.
Carrier:
Handmade in brown bonded leather with stitching details
Bonded leather carry handle and shoulder strap for easy travel
Zipper top secures with latch closure
Barware pieces:
Stainless steel multi-purpose tool stored in lid; includes corkscrew, bottle top opener, knife and surgical steel blade cigar cutter
4 stainless steel drinking cups stored in bonded leather holder with snap strap
Cylindrical bonded leather humidor with pull tab zipper, carry strap and interior humidification device
Humidor can accommodate up to 7 cigars with a 54 ring gauge
Carrier debossed with Tommy Bahama® logo; humidor debossed with our marlin logo
Cigars in photo not available
Imported
TH30952
You Might Also Like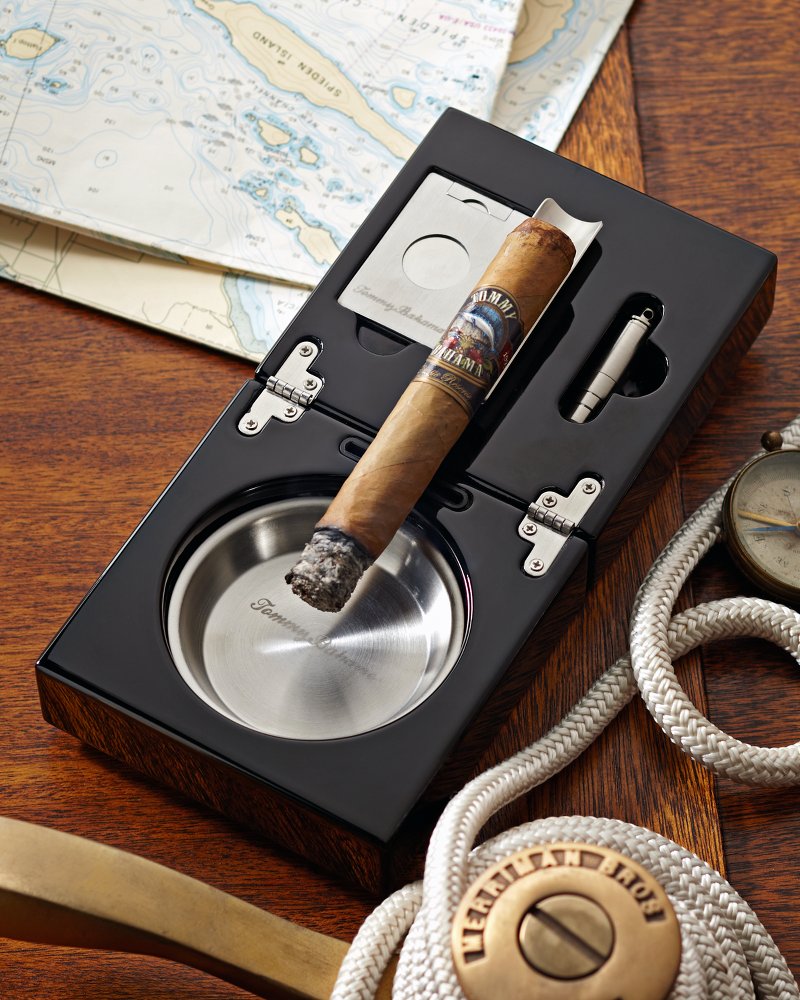 Black Folding Ashtray
$37.50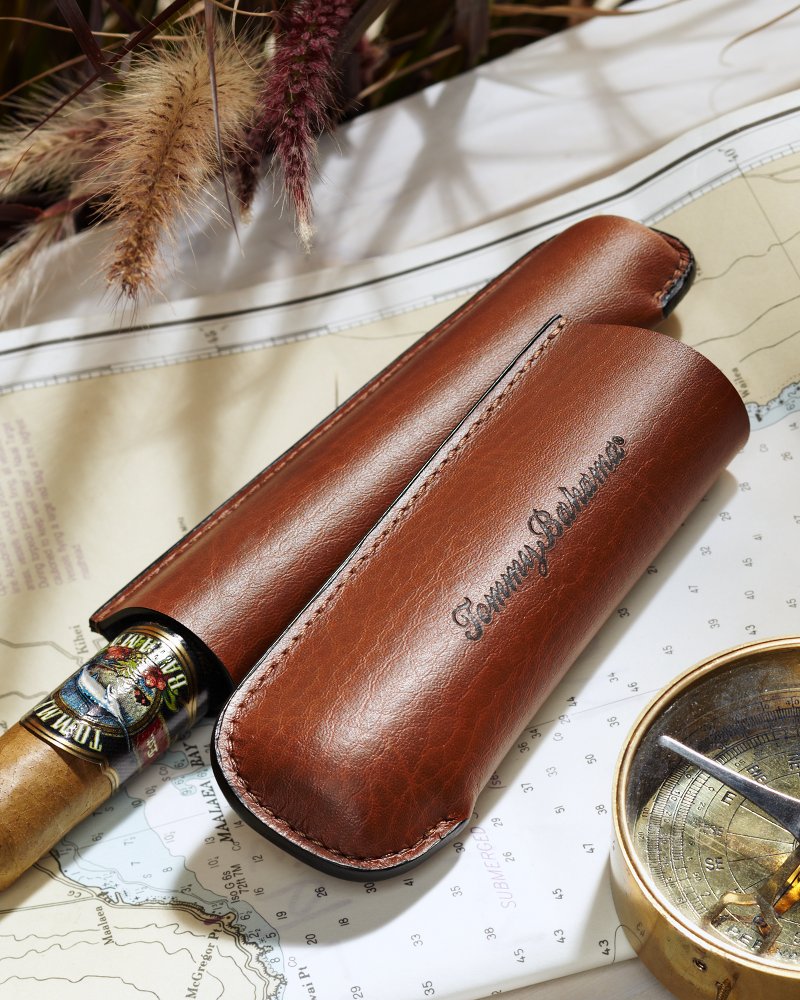 Leather Cigar Tube
$26.00
Leather Cigar Bar Carrier
5
5
Underwhelming quality
I am a TB freak and cost is not the issue when I make TB purchases, but quality is an expected TB brand trait. This item is a great concept, well designed and has everything in it one needs to chill with a gar and favorite beverage. However, the quality is very "Made in China" and does not live up to TB standards in my opinion. Either beef up the quality or cut the price in half, because it is not worth any more than that. Sorry TB. Over my many years of TB purchases, this is my ONLY disappointment.
February 1, 2013
Beautiful
We love taking this on romantic picnics. This is a beautiful piece of art.
January 23, 2013
Great for wine, cigars or even martinis
A great way to carry wine, cigars or, in my case, martinis. A bottle of gin, a small shaker and two stemless martini glass fit perfectly. I'm not worried if the makings are available 'cause I've brought my own in this great-looking and practical carrier.
January 3, 2013
This product had all the tools for a great getaway.
My husband goes on a couple of golf getaways annually with several buddies. They love their cigars and scotch after the round so this Cigar Bar Carrier made the perfect gift.
December 23, 2012
Perfect Product for the short trip
outstanding quality, totally staisfied with quality and design and durability.
December 21, 2012