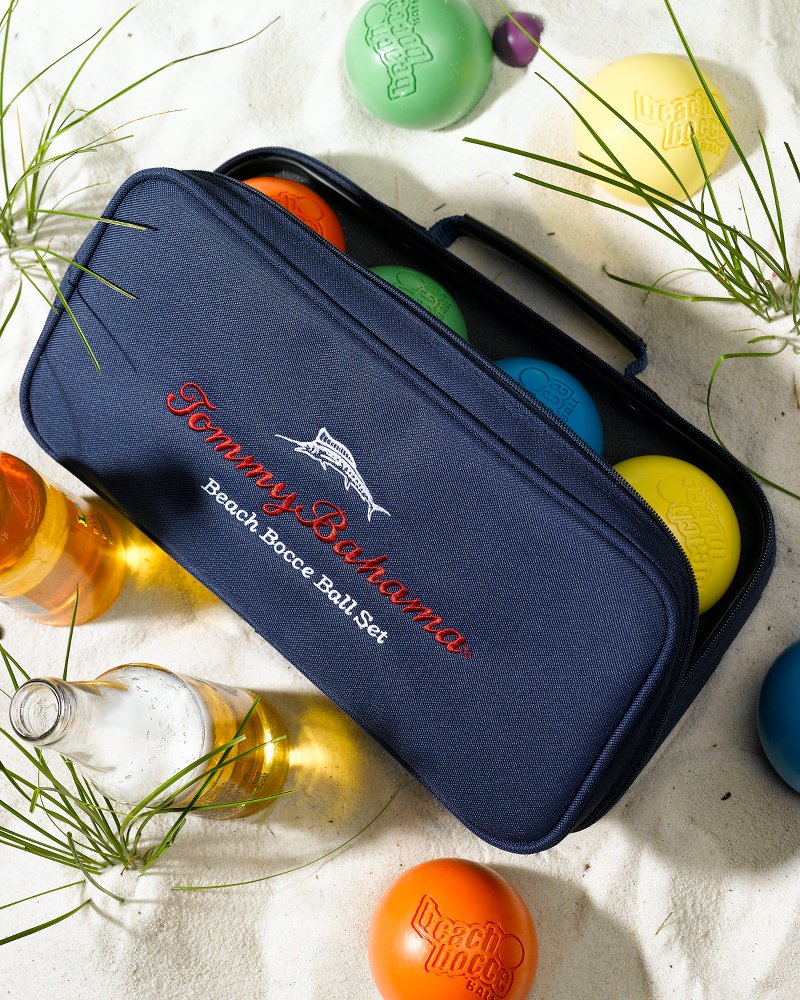 Beach Bocce Ball Set (# TH30871)
$158.00
Wish you and your family could play
bocce
at your favorite beach? Now you can! Our durable set lets you enjoy this classic game on any flat, outdoor surface from beaches to backyards. Made from top-quality, injection-molded polyurethane, its eight bocce balls and one pallino ball are bright in color and built to last. An easy game to learn and play, it's the perfect recipe for years of active, summertime fun! Comes in a water-resistant travel case.
Molded polyurethane
Includes game instructions, purple pallino 1" in diameter and measurement string for "too-close-to-call" plays
Set of 8 bocce balls, each 3" in diameter:
2 red, 2 blue, 2 yellow, 2 green
Travel case:
13" x 8" x 4"
12 lbs. (when closed with game pieces inside)
Water- and weather-resistant canvas; wipe clean with a damp cloth
Faux leather-wrapped handle for comfortable toting
Interior mesh pocket for instructions, pallino and string
Molded foam interior
Zipper closure
Sailfish and "Tommy Bahama® Beach Bocce Ball Set" embroidered on the exterior
Imported
TH30871
Great looking set with nice carrying case
This was a gift for my husband. The case is nice and compact. The set is perfect for family vacations and we'l even use it in our backyard for picnics!
December 30, 2012
Another TB Classic
Just when you think it can't get any better, that Tommy Bahama must have thought of everything you need for active, tropical lifestyles, they come out with another great product. That's clearly the case here. The canvas case looks great, and the balls are heavy (about 1.2 lbs. each# and solid, so you can toss them at each other all day and they won't scratch or break. Includes the rules for beach bocce #much less strict than with traditional bocce, although you could certainly play the traditional game with this set) and about FIVE FEET of measuring cord. No way you're going to have to guess whose ball is closer with that much. Like all great TB gear, although they haven't marked this a limited edition, all things Tommy give way to novel products, so grab this while you still have the chance. SO glad I held off on getting a bocce set until now.
August 31, 2012