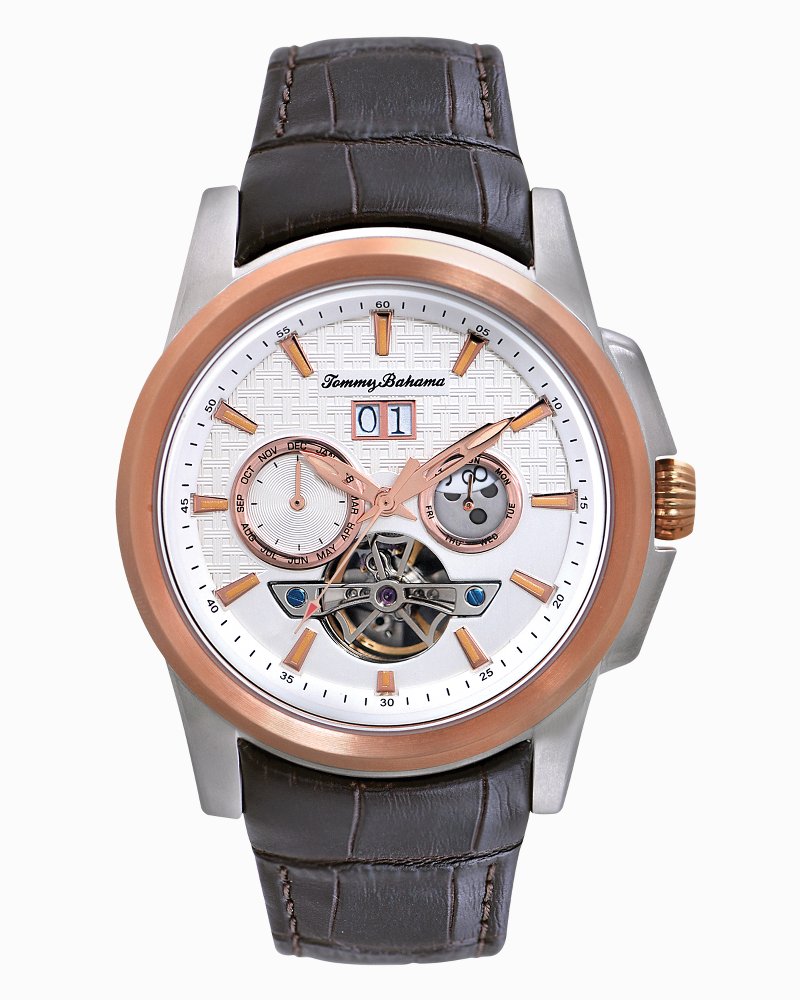 Cabo Automatic Watch (# TB1247)
$495.00
Refine your look with this self-winding chronograph watch. Perfect for adding luxury to any day, this water-resistant timepiece has a linen-textured dial highlighted by rose gold accents and framed by a rose gold-plated bezel and stainless steel case. A brown, croc-embossed leather strap provides a fit that's stylish and comfortable. Luminous hands and hour markers glow in the dark after prolonged exposure to light.
Stainless steel case with rose gold ionic plating
Case size: 42mm
Croc-embossed leather strap
Water resistant to 165 feet; 5-year limited warranty
21-jewel automatic self-winding movement with three chronograph dials
Luminous hands and hour markers glow in the dark after prolonged exposure to light
To ensure proper winding, please see the instructions
Imported
TB1247
The date stopped working
I received this watch as a gift as I am a big fan of watches. Unfortunately, after setting the date, I noticed the first digit (either 1 -3) was not functional. The second digit (0-9) would cycle properly but wouldn't cue up the first set of digits properly. Now, I'm stuck with a beautiful watch that doesn't function properly. Being that the watch was a gift, I am unable to return it without any documentation.
September 22, 2014
Best watch in my collection. A quality timepiece.
My sis bought me this exquisite watch. She said as soon as she saw it, she knew it was for me. When I opened the box, I too knew it was me. Class and quality to wear with my suits, my jeans or out on the boat. Most watches these days are oversized and look cheap. When someone sees this watch, they think its worth 5 times the price. I couldn't have found a finer piece. The month and day of the week are a little hard to read, but now that I know where they are located its not an issue. I have a feeling I will have this watch for the next 25 years or more. Tip: to change the month, day of the week and date, simply press the 3 small buttons (independently) on either side of the watch. Don't over think it like I did. Lol.
June 23, 2014
Tommy fan
The first one I purchased stopped working. I took it back in to the store they just asked if I wanted my money back or exchange it for a new one. Well I really liked the look of this watch so I decided to exchange it for the same watch. Haven't had a problem since. My dislikes would be as follows. The first watch I bought was the display watch that had obviously been looked at and handled by others when I asked if they had a new one in the box the salesmen told me it was the only one they had. The other thing is that the day of week an month is very hard to read being that the lettering is so small but once you learn the position of the hands it's not a big deal the last thing is both stores the one I purchased it from and the one I exchanged it at had no knowledge about the watch they didn't know how to set it or tell me anything about it. They actually sent me to a another watch retailer in the mall to help me with that
November 21, 2013
Would not recommend this watch
Thought this would be a great gift. However the hour hand does not reach the hour until 20 minutes after the hour.
May 21, 2013