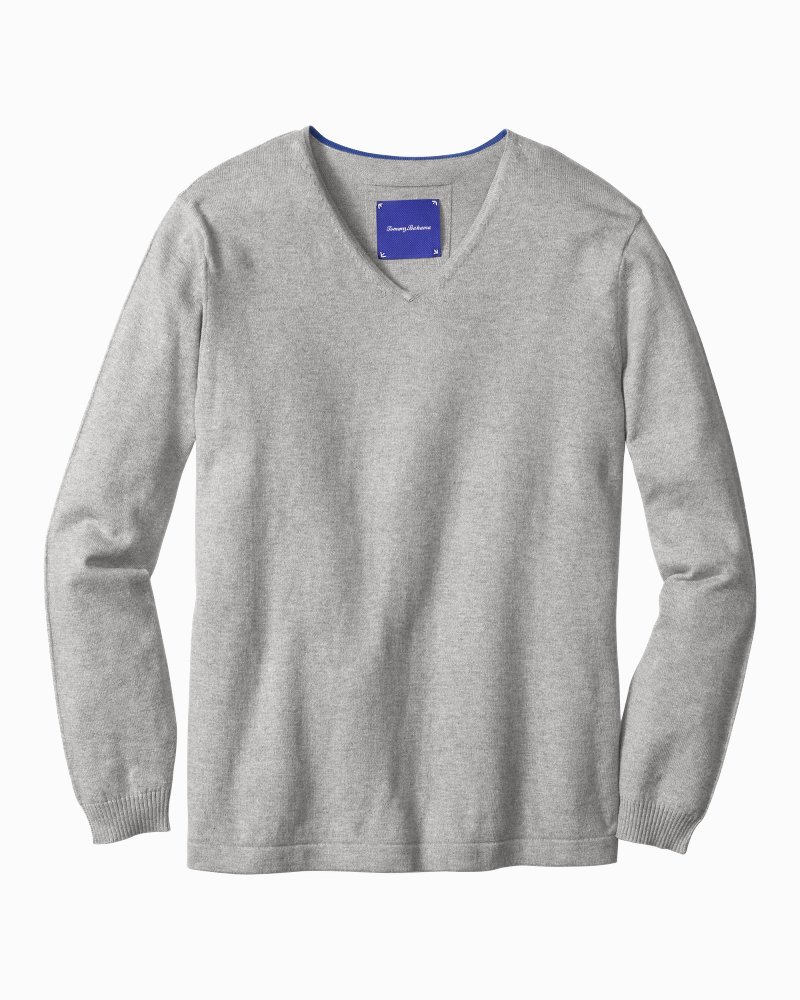 Big & Tall Island Luxe V-Neck Sweater - Originally $128.00 (# BT4994)
Big & Tall Fit
$63.97
This refined, versatile V-neck sweater helps you transition comfortably from summer afternoons on your sailboat to brisk fall days in the city. Made from a blend of cotton and cashmere, it offers lightweight warmth and softness you'll appreciate in any port of call.
Originally $128.00 - Now $63.97
95% cotton, 5% cashmere
Machine wash cold on gentle cycle; lay flat to dry. Can also be dry cleaned.
Ribbed collar and cuffs
Contrast trim at the inner back collar
Tommy Bahama Big & Tall apparel is not available in our retail stores
Imported
BT4994
Big & Tall Island Luxe V-Neck Sweater - Originally $128.00
8
8
My new favourite sweater
Beautiful soft sweater. I purchased the Iced Coffee colour and it looks incredible with lighter jeans. The sweater weight is very versatile...not too heavy but heavy enough to provide some warmth. I also purchased the blue.
October 13, 2013
great sweater
This sweater fits perfect and feels great. I love how it is lightweight and comfy. I can wear this sweater without sweating.
May 18, 2013
Good-Looking Sweater
Feels great, looks great. Sleeves are plenty long -- I am 6'6", usually buy 38" dress shirt -- but have been turning up the cuffs on this XLT sweater. Note that there are external seams on the sleeves -- a design choice, not a flaw -- that don't show up on the pictures. OK with me. Liked the first one so much, bought a second one.
March 25, 2013
Great sweater and amazing shipping!
My husband is 6'6 and it is very difficult to find quality clothing that fits him well in stores. Ordering this sweater for him for Christmas was a great decision. We had been looking all over for a new sweater but without any success. I ordered this one and it arrived the next day with free shipping!
January 18, 2013
It fits and the color is great!
My latest Tommy Bahama acquisition is the v-neck sweater and a big/tall one. I'm a full figured dude (6'5" and knocking the door at 280+ so finding clothes that fit is sometimes a challenge). Looks great and fits great! I've been buying Tommy Bahama clothes since the line was established and I've still got the first shirt I ever bought! I bought it in Palm Springs - along with a whole lot of other clothes that day for both me and my wife. Thye just don't wear out and the designs are timeless. I am grateful, too, I work in an enviromental where I can wear Hawaiian shirts just about every day. On the days I need the suit, I have an old Tommy Bahama necktie. Got that one in Honolulu years ago. I have somewhere in excess of 60 Tommy Bahama tropical and other shirts and I try to sneak new ones in from time to time. (My wife is really smart, though, and recognizes a new pattern when I get one...) I'm now loaning shirts to my son and tell him this is his inheritance and legacy from the old man. Aloha from the "Lumberdude" Ken
January 14, 2013
Not what I expected
The sweater was very thin and I didn't feel was a good value. I returned the item with no trouble at all and ordered a different shirt that I was happy with. My account was credited promptly. (This was a Christmas gift for my son)
January 11, 2013
Dad loves it !!!
I have never bought a v neck but thought I'd try it, and guess what? He loves it, no more feeling like he's choking !! Yippee !!! Thanx. Loretta
January 11, 2013
This product seemed extremely thin
This product was extremely thin. You could see anything you wore underneath. It also easily snagged. Otherwise the color was beautiful.
January 5, 2013