Big & Tall TB Advised T-Shirt - Originally $85.00 (# BT2989)
Big & Tall Fit
$42.97
Whether you're walking the dog or batting around a badminton birdie, you'll appreciate the cool comfort and fine details that this soft, quick-drying tee has to offer. Crafted from a lightweight blend of Tencel® lyocell and polyester, it's an any-day-of-the-week style that looks as incredible as it feels.
Originally $85.00 - Now $42.97
85% Tencel® lyocell, 15% polyester
Machine wash cold; tumble dry on low setting. Can also be dry cleaned.
Tagless collar
Tommy Bahama Big & Tall apparel is not available in our retail stores
Imported
BT2989
You Might Also Like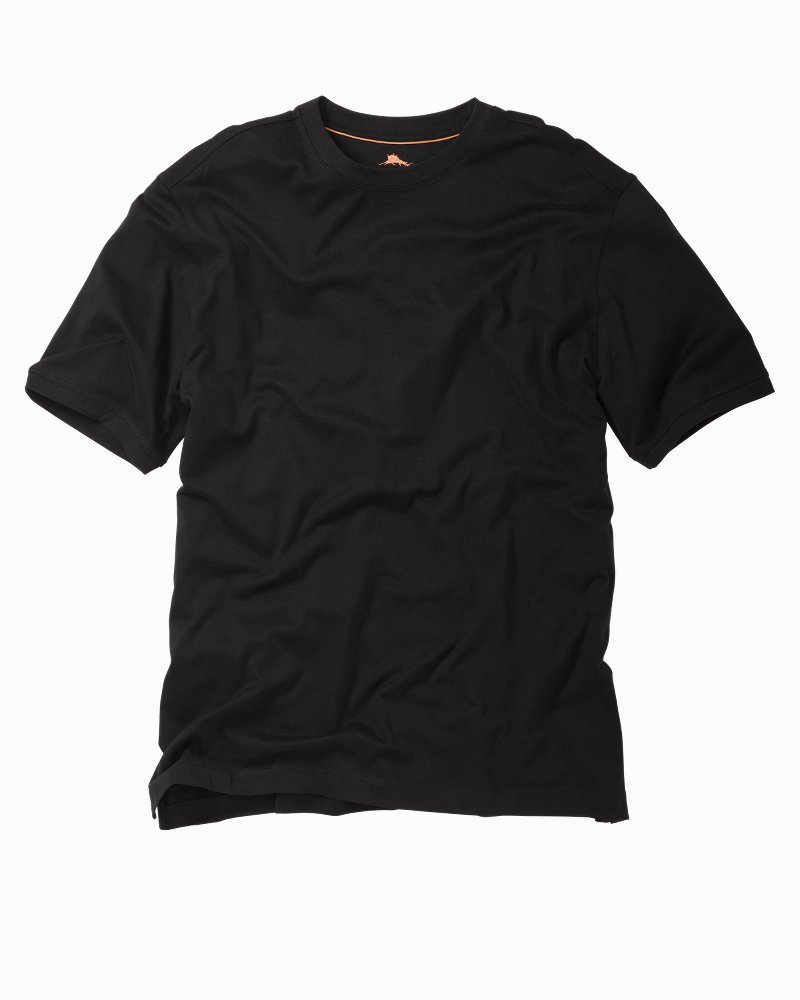 Big & Tall Palm Cove Tee
$68.00
Big & Tall TB Advised T-Shirt - Originally $85.00
9
9
Best Basic Tee out there
Another high quality product from TB! Very comfortable basic tee without a ton of logo or pictures. Super soft and just looks and feels great!
April 25, 2013
great buy-great quality
It's almost a sin to have such comfort against my skin
April 15, 2013
Very Comfortable
Great T-Shirt! Very soft, comfortable, and I like the way the neck fits. More colors please so I can buy more!!
February 23, 2013
Incredibly soft upscale T shirt!
My husband absolutely loves these shirts! I believe that we have purchased over 20 in the last 10 years. If you have a coarse beard, the fabric around the collar will wear quicker than the rest of the shirt. Small price for a fabulous t-shirt! Thanks Tommy
February 8, 2013
This T is a great addition to any TB wardrobe!! It works well under any polo, shirt or sweater or looks excellent alone. It keeps its shape for years!
I bought my husband this T years and years ago for our first cruise together. He has worn it weekly ever since. It is his go-to T for weekends under whatever he has chosen to where. He loves the softness of the material and I love how great it washes and wears time & again!! This T is now showing signs of wear and I didn't want my husband's wardrobe missing his favorite comfort clothes!! I am so glad you have kept it in your offerings - thank you!!!
January 18, 2013
Initally a great shirt but does not last
I loved this shirt - I purchased over 12 of them over the past three years. Sadly, they just don't hold up very long, fraying at the neck and sleeve line and holes under the arms. Its just not a long lasting shirt - but for three to six months, it is so comfortable. I have purchased both the XL big and Tall and the regular XL. The B&T seems to last a bit longer.
September 3, 2012
Nice shirt, fits well, does't last.
We have had several TB t-shirts in multiple colors. They fit my "Big & Tall" husband perfectly. However, like the other review, the shirt shreds at the neck quickly with just everyday wear. We also have had the armpit holes develop/wear in a couple of the shirts but the neckline wears out in less than a year in 100% of the shirts. His inexpensive white undershirts from Target that he wears daily hold up much longer. We do enjoy the rest of the mens clothes from TB.
June 4, 2012
this product is excellent.
i would rec this product to every one. i will buy this product again.
April 10, 2012