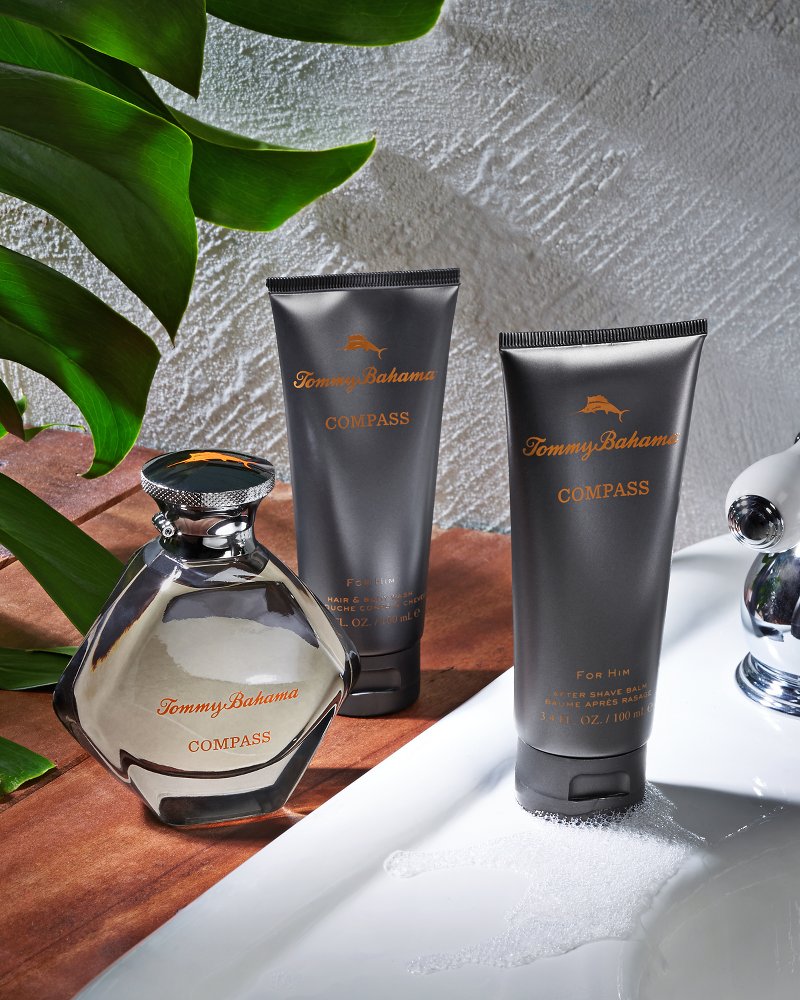 Tommy Bahama Compass Gift Set (# 198733)
$69.00
Reward Dad's spirit of tropical adventure with this three-piece gift set. Our cologne spray, after shave balm and hair-and-body wash will treat him to rejuvenating island aromas he's sure to love.
Exclusive to Tommy Bahama, our Compass scent opens with a confident blend of Ivory Coast lemon, ripe grapefruit and vibrant violet. A heart of spicy pimento, lavender and robust sage complements bottom notes of smooth cedarwood, island rockrose, gray amber and warm tonka bean.
3.4 fl. oz. cologne spray
6.7 fl. oz. hair-and-body wash
5 fl. oz. after shave balm
Made in USA
198733
Shipping restrictions apply [
details
]
Tommy Bahama Compass Gift Set
12
12
Great smell
The first time I received a sample. Got me hooked afterwards. Just love it.
August 22, 2014
Great Package - Cool Scent
This a great package deal of TB Men's Cologne, Body Wash and After Shave Gel! Cool refreshing scent that I highly recommend, not too heavy, just fresh and perfect for anytime use!
August 18, 2014
Very nice product!
My wife has always loved most of the Tommy Bahama colognes on me and this is no exception! Great product.
July 26, 2014
I've had many compliments about my new cologne
I've tried several of Tommy Bahama fragrances but this has to be my favorite! I get compliments every time I wear it.
July 25, 2014
Get a Compass!
After I discovered Tommy Bahama colognes, it's the only brand I buy. When they came out with Compass, I had to get some. Thank God for Father's Day! The hair & body wash does a great job, the after shave balm helps my skin, and the cologne is amazing! If you are looking for direction in what cologne to buy, get out your Compass!
July 22, 2014
Great product!
This was a perfect Fathers Day present from my wife and son. Great deal and love the new scent!
July 21, 2014
Once again a great scent for TB men!
I've have purchased nearly every men's fragrance from Tommy Bahama and this is a new favorite....along with Set Sail-South Seas. A real departure from St. Barts and Martinique, Compass is a fabulous fragrance that can be worn in all seasons.
July 20, 2014
Great Scent.
Received as a gift. This is a great summer scent. I have all of the Tommy Colognes and this is a great addition for a different scent. The body wash and aftershave are great too and a great bonus. Thanks for the gift.
July 20, 2014