Beach Cruiser Watch (# RLX1002)
$95.00
This water-resistant watch is ready for action and leisure whenever you are. With a stainless steel case and polyurethane straps, it's perfect for yachting, snorkeling or drinks after sunset. Our signature sailfish appears at 6 o'clock. Date window at 3 o'clock; three-hand movement.
Stainless steel case
Case size: 43mm
Polyurethane strap
Water resistant to 330 feet (10 ATM)
Japanese three-hand quartz movement
Luminous hands and hour markers glow at night after prolonged exposure to light
Rotating timing bezel
Limited lifetime warranty
Imported
RLX1002
You Might Also Like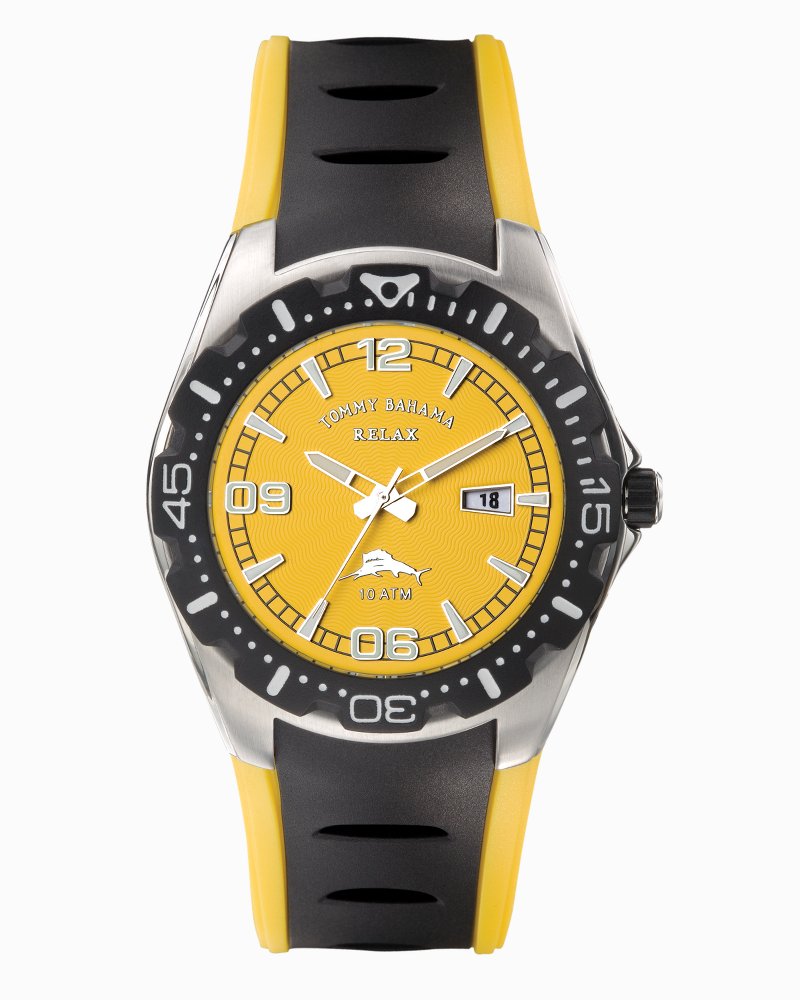 Beach Cruiser Watch
$95.00
Beach Cruiser Watch
16
16
Problems with my watch
I like this watch, but I have had two problems with it . The band has split twice & I have super glued it, but it didn't last . The band split on the second & third hole on the side without the buckle . The other problem I have is, if the stem is fully pushed in the watch stops, so I have to leave it out a little ways so it will run . It does keep good time & that's the only problems I have Had . Let me know if anything can be done to correct these two problems . Sincerely, Bob M
November 4, 2013
Wanted it to be a decent watch - disappointed
Unfortunately I've had a bad experience twice now with this watch. The first watch I had for a little while, a few months, and then my son "borrowed" it when he came home from college. Needless to say when he told me it was broke I just figured he had abused it. The bezel broke, etc. I ordered a new bezel for him. Shortly after, he told me the numbers were falling off. I just dismissed this as him being rough on it. So, at the price point I figured I would just buy him another one. Well, after three months he said the stem had broken off and once again the numbers were falling off. I was truly disappointed. It's a nice looking watch, has a good feel to it but really is poorly made. C'mon Tommy Bahama, there's enough complaints on here reqarding the quality in particular the numbers falling off. You should demand more of your suppliers - even for $95.
October 22, 2013
Didn't last a month.
Cheap watch. Dial fell off just less than a month of wearing the watch. I wore my Raymond Weil for twelve years till I had to have it fixed. Bought this as a temporary replacement. So much for a nice everyday watch. Had the Weil fixed for $25 dollars.
October 12, 2013
Great watch for the price
I've had my watch for a couple weeks now. So far, so good. I tried on a lot of watches at the Tommy store. This one just felt the best on, to me. I've gone swimming in a pool about 6 times so far and no issues with water resistance. The watch looks like it should cost more than it is. I'm somewhat worried about the other reviews about it falling apart, I hope it doesn't but at the price, I will just have to get another. Watch looks good casual or slightly dressed up.
August 19, 2013
Love the watch, but the band fell apart
I received one as a gift a couple years ago. I love the watch, but the buckle fell off. Don't know where I can get another band.
August 7, 2013
Watch fell apart!
Bought this watch for my husband almost a year ago. Recently he tried to set the the watch for day light savings time and the whole watch fell apart, stem and face. Not a good buy!!
April 16, 2013
Happy so far...
I've had the watch for a month, and so far I am very pleased. My only issue is that I wish the crown had a screw lock. I say this because despite the fact it says water resistant to 10 ATM/ 330 ft., I am afraid to wear it in the water becasue I am afraid water will get inside the crown and into the watch. Does anyone have any thoughts on this?
January 28, 2013
Nice watch for the price!
Purchased my watch in Destin while on vacation to use while on the beach. Also ideal for snorkeling. My son liked the watch so much we ordered this one for part of his Christmas. He too loves water sports.
January 18, 2013