Leather iPad Case (# 4169TM47)
$98.00
Designed to resemble a time-worn journal cover, our convenient case transports your iPad in rugged, island style. Crafted from durable, textured leather, it has contrast corner tabs on the inside that firmly secure your device.
Its protective cover folds back, converting the case into a desktop stand, while a built-in strap lets you slip the case and iPad over your hand for presentations. Built-in camera hole; topstitch accents; debossed Tommy Bahama® logo on the outside.
Leather
Open: 16" x 9.5" x 0.75"
Closed: 9.5" x 8" x 1.5"
Designed to hold your iPad, iPad 2 or iPad 3
Imported
4169TM47
You Might Also Like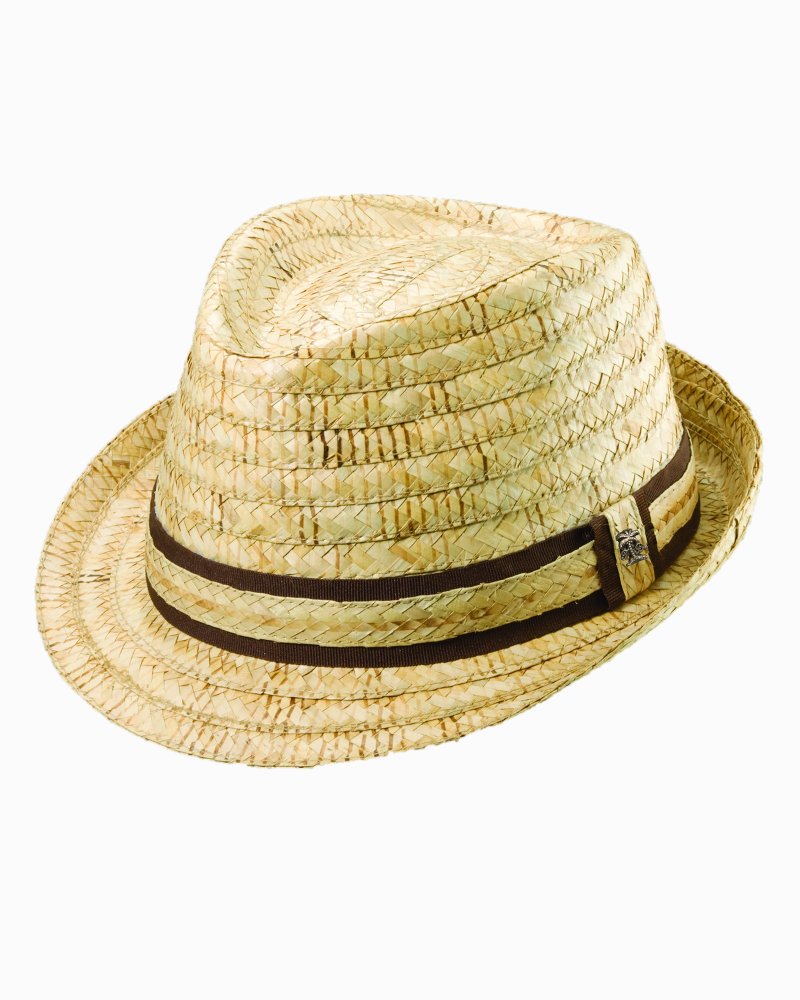 Buri Straw Fedora
$58.00
Love it but...
Have had this cover for over two years. Loved it so much that, when I gifted my parents the old iPad and its treasured case, I ordered a new one for my new one. Within two weeks, one of the corner pieces let loose from the base, rendering it pretty much useless. I was devastated...not sure I'm willing to shell out this kind of money again.
May 10, 2013
First time my friends saw it, they loved it.
After purchasing this iPad cover I brought it on a ski trip with me, the first day my friends saw it, they loved it. Everyone complimented on the look and style and asked if it was functional, my answer YES! Love it.
February 11, 2013
High quality and very functional case for iPad.
Beautiful high quality leather iPad case. Love the look and functionality that this case offers.
February 4, 2013
This cover is more beautiful in person
When I opened the box it was BEAUTIFUL!!!!! I just LOVE IT!!!!! I really Love the way it can stand straight up or lean back a little bit... It fints perfectly on my original ipad, (something I thought would be a problem) and easy to access too.... My old one was zippered and it was a lot of trouble to unzip when I needed to use it...... The only complaint that I have is that they should make one of these for the iphone 5 that would accomodate my case and phone.... I just LOVE this............
January 27, 2013
A Case for home-based users
This is an excellent case that protects your iPad, makes it easy to use and - of course - evoques pure jalousie in your friends and colleagues with its stylish design. I have all my furnitute, all my cigar accessories and clothing from Tommy Bahama and this case was the natural addition to this style. Two problems however: - Reliable protection of the ipad comes with added weight of the case. Makes it heavy for your hand luggage on the plane; - Other Users shared the inconvenience of the on/off upper button and I can confirm their concern. Pressing the back wall of the case solves the problem but - on many occasions - other objects may press that wall and activate your ipad (especially in your handbag) leading to surprising drops of the battery levels. Overall, I would not buy anything else but would be more careful on the road.
January 27, 2013
1 was not Enough
I bought this for myself when they were first introduced! It is well designed and just a gorgeous looking cover - best one I've ever seen. I've received lots of compliments on it, especially from my parents - so for Christmas, I bought them one too!
January 20, 2013
textured leather is hard
Thought this textured leather would be a bit softer to the touch. It's very hard and doesn't feel like leather at all. The rest of the features were nice and it is a good design, but the exterior finish was very off-putting. I returned it.
January 11, 2013
Very attractive and well make.
This is a fantastic case. Please make one for the Mini iPad.
January 7, 2013